About

ECS gets your products off the drawing board and into production
Working with OEMs in a variety of high-tech industries, we specialize in the development and production of precision mechanical and electromechanical components and devices. From the initial design consultation to the final production run, our experienced design and manufacturing engineers add value every step of the way.

Engineered Component Solutions provides design, manufacturing and distribution services to a diverse base of OEM customers in the medical, telecommunication, aerospace, military and other high-tech industries. More than just a distributor, we take a full-service approach to supplying our customers with precision plastic and metal components and assemblies. That approach includes:

Global Supply. We have longstanding contract manufacturing partners around the world, including North America and Asia. In China alone, we have an eight-year history of successful manufacturing. Wherever we operate, we do so with under the supervision of our own team of engineers and project managers.

Manufacturing Expertise. Founded by manufacturing engineer and metallurgist Mark Whitcomb, Engineered Component Solutions has been involved in global manufacturing since 1999. Our engineering team has more than 40 years of combined experience and a hands-on understanding of the manufacturing processes we offer.

Commitment to Quality. We practice a dual-quality system in which our own engineers and those of our manufacturing partners work independently to validate all manufacturing processes. We routinely manufacture to the most stringent quality standards, including ISO 9001:2008 and QS 9000. Facilities that produce components for medical devices are compliant with FDA and international (ISO 1345) quality standards.

Comprehensive Support. We do much more than fulfill piece-part orders. We serve as your in-house global sourcing experts. From design to manufacturing to distribution, we make it easy to create a cost-effective, efficient global supply chain.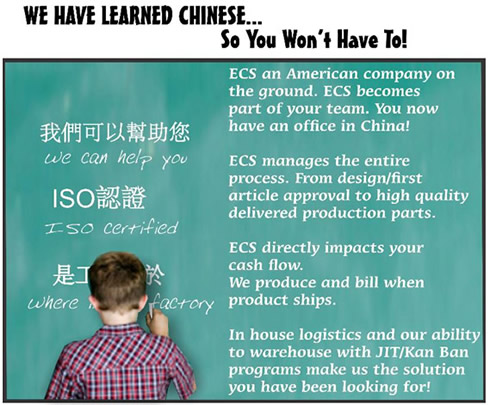 Supplier Directory Categories
Engineered Component Solutions, LLC is listed in these categories: