About
Our Vision: To deliver the safest and best supported helicopters in the world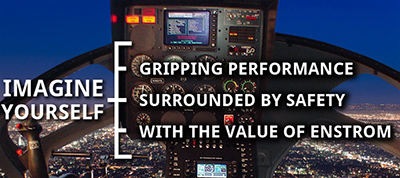 Enstrom Helicopter Corporation designs and manufactures light, single-engine piston and turbine helicopters for commercial, government, and personal  use.
Step into an Enstrom and you'll realize we're passionate about safety and value. Our helicopters offer superior performance with safety and affordability for training, law enforcement, and a variety of commercial operations.
Our piston and turbine models offer limitless configurations and are fully supported in North & South America, Australia, Central & Eastern Europe, and Asia.
From Rudy Enstrom's early designs in 1943 to initial testing in a Michigan Quarry in 1957 to aircraft operating on six continents, Enstrom Helicopter Corporation has maintained a reputation for safety, value and performance.
Based in Menominee, MI and proudly made in the USA, Enstrom has a rich history for design innovation with the thrill of flying in our veins. Our goal is to provide helicopters to your exact specification and deliver support and maintenance worldwide. We offer many available configurations and have the capability to equip and style your Enstrom to fit your unique needs.
Supplier Directory Categories