About
Ergonomic Factory Equipment that safely speeds work output without worker strain fatigue or injury.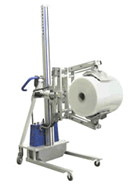 Ergotech designs and manufactures compact, battery powered lifts, transporters, multi-directional conveyor rollers, electric telescopic lift columns, tables, ergonomic work positioners, telescopic lifts, manipulators, lifting equipment, conveyors, gravity conveyor, skate-wheel, omni wheel, multidirectional wheel, industrial material handling equipment, ergonomics, multi, 2, and 3 axis positioners, ergonomic products that eliminate body strain and worker compensations claims caused by lifting and positioning injuries.
Ergotranz and T2 battery powered, lift transporters that are mobile, compact robots for worker assist in roll handling, packaging, positioning parts, packaging rolls, eliminating body strain. An alternative to fork lifts, winches, trolleys, and stackers. Features include variable speed lift screw, end effectors, dual arm grippers, safety LIFT BRAKE, Caster safety brake to lock-in swivel, directional, and brake. Lightweight and compact to ease work maneuverability.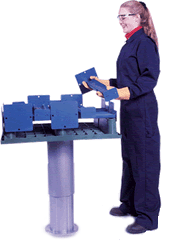 Rollflex and Ergoroll multi-directional self cleaning conveyor rollers are ideal for conveyor transfer stations for space savings, Inspection and rework stations in packaging, distribution/logistics, electronics, furniture, and general manufacturing industries. The open design on a conveyor roller system is great for dirty and dusty applications. (Superior to ball transfer rollers). Stainless steel barrel axles and polyacetal composite roller material is standard, suitable wash downs without rusting. Low cost - stations are inexpensive to set up.
ErgotecH's Ergo-I electric telescopic lift, linear actuator and tables are safe, with hydraulics or no pinch points. RATINGS up to 1200 pounds, and with synchronization up to 4,800 pounds. Ideal for welding, assembly, grinding operations. Screw drive, precise, smooth lift speeds, quiet motor, hand pendant, foot pedal, PLC control input, over load protection, small footprint saves space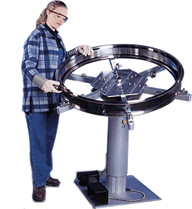 Ergo Master work positioners manipulators, bench mount or pillars, columns position work for comfortable work height, tilt angle, rotation, multi, 2, 3 axis positioning. Ergonomic Work Positioner is ideal for welding, assembly, grinding operations. A pneumatic lock mechanism assures safe movement with a friction adjustable brake. Up to 400 pound load capacities.
Ergo Chief work positioner, lift column provides work height adjustment, 360 degree variable, bi-directional rotation, to provide productive work positions for work height, rotation, 2 axis positioning. Electronic Control System assures variable speed rotation and safe rotation reversal. Welding Positioner is adjustable foot pedal controls.
Ergo Control programmable work positioner, manipulators position work for comfortable work height, tilt angle, rotation, multi, 2, and 3 axis positioning. Rotary Work Positioner includes an electric lift, 360 degree turn on x and y axis, and foot or hand pendant control. Up to 7700 pound load capacities.
Supplier Directory Categories
Ergotronix, Inc. is listed in these categories: