About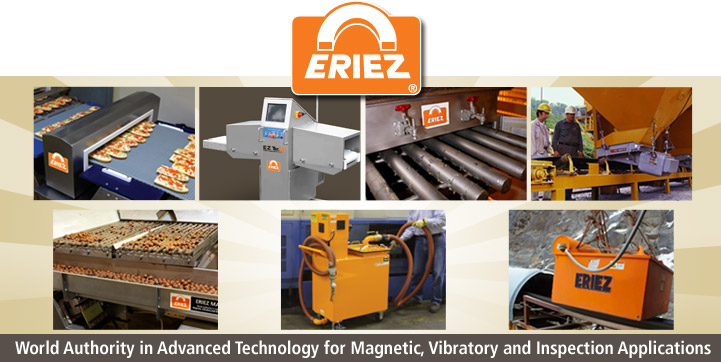 Eriez is a world leader in the design and manufacturing of separation, material handling and inspection equipment used throughout process industries from sanitary applications like food and pharmaceuticals to large-scale industrial applications such as mining. The applications and production methods requiring Eriez' equipment are universal around the world.
Separation
Magnetic separation

Removing metal contaminants
Sorting and recovering valuable metals

Remove tramp metals or metal contaminants
Fluid Filtration for metalworking
Flotation technologies for industrial mineral recovery
Material Handling
Vibratory feeders, conveyors and screeners
Lifting magnets
Inspection Systems
X-Ray inspection systems for foreign object detection
Metal detection systems to remove harmful contaminants
Visual inspection conveyors
For 70 years, Eriez has continued to expand both in geography and in product innovation. The company now has a dozen manufacturing facilities throughout North and South America, Asia, Europe, Africa and Australia providing design and manufacturing advice for customers all over the world.
For more information on a full range of industries and current products from Eriez, visit www.eriez.com.
Supplier Directory Categories
Eriez is also listed in these categories: