About

World Class Worldwide Suppliers of Quality Metal Forming
Equipment and Services for Over 100 Years.
Visit SPX Precision Components - Fenn Division at their upcoming events.
SPX Precision Components, FENN Division is a global supplier of Metal Forming Machinery. Established over 100 years, it has a solid reputation and customer base, built on decades of engineering and machine building experience.
They recognize the growing need of the industry for total metal forming solutions, not just a piece of machinery. In this regard, they are uniquely positioned to offer technical, process and engineering expertise to provide the best solution that fits a company's needs.
Let the FENN Division's experience work for you. Consult their experts about your metal forming application and they will work with you to arrive at the best equipment configuration to meet your exact requirements. They have expertise in the following lines of equipment:
Two-High & Four-High Mills
Custom Rolling Mills
Turks Heads
Wire Flattening & Shaping Mills
Swaging Machines
Torin Spring Coilers
Strip & Wire Formers
Wire & Tube Drawing
Upgrades & Rebuilds
Wilson L. Fenn founded Fenn Technologies Company in 1900. Further generations of the Fenn family operated the company until 1968. The company is now a division of SPX Corporation of Charlotte, North Carolina.
Fenn provides a complete line of metal forming equipment. Fenn offers Tube Drawing Machines, Wire Drawing Machines, Impact Cutoff, Take-Ups, Payoffs, Wire Flattening and Shaping Mills, Rolling Mills, Turks Heads and Swaging Machines.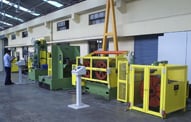 Over the years, Fenn has worked very closely with many of its customers to develop lines specifically suited to their requirements and to achieve higher efficiencies and production. Operating in this way, Fenn engineers have accumulated a wealth of experience in the design and building of special equipment for the metal working industry.
The Aerospace sector of SPX Precision Components' operations produces Rotor Head components and other critical, sophisticated parts for both military and civilian programs.
Supplier Directory Categories