Profile Home
About

FORREST Technical Coatings was founded in 1973 as Forrest Paint Co. and over four decades has developed a broad portfolio of coating solutions and a worldwide support network. Our technical focus is providing engineered finishes that add both aesthetic and functional value to manufactured products. Flexibility in our manufacturing process enables responsive and coordinated support for companies with multiple product needs, including liquid and powder finishes together with aerosol touchup.

FORREST Technical Coatings is known worldwide for its Stove Bright® brand of high temperature coatings sold on six continents. The Stove Bright® brand includes temperature resistant coatings in liquid paint, powder coatings, and aerosols to match. Combined with decades of experience in manufacturing and developing heat resistant paint, FORREST Technical Coatings delivers technical expertise to support our products a customer base that includes manufacturers, distributors, retailers and consumers. With liquid and powder coating labs staffed by experienced chemists, FORREST Technical Coatings can provide the right solution that meets changing industrial, environmental, and performance requirements.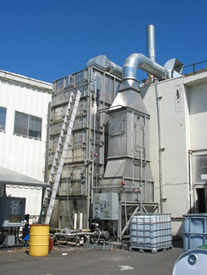 FORREST Technical Coatings is proactive in protecting the environment through both responsible manufacturing practices and continued development of low emission technologies such as powder coatings, UV curable coatings and water-based coatings.
More than a decade ago, FORREST was the first coatings manufacturer in the country to reduce emissions from our manufacturing process by installing a biological system to "compost" air pollutants. Founder Scott Forrest also helped lead a statewide initiative for a paint recycling program that lowers the environmental impact of consumer paint waste.
From what began as a solid customer base in the Pacific Northwest region of the United States, FORREST Technical Coatings has grown into an internationally known company in the coatings industry, and under second generation leadership of company president Mark Forrest, continues to position itself for future growth.
Look for Forrest Paint, Stove Bright®, Restore-X, and firmfoot™ brands.