About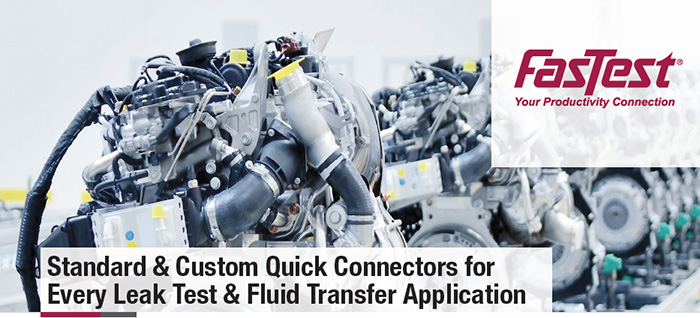 Connect Safer — Eliminate Waste — Improve Efficiency — Drive Quality

FasTest is a dedicated manufacturer of advanced engineered connection tools for pressure and vacuum testing applications. FasTest connection tools are easy, safe and reliable to operate — with standard and custom solutions available for every leak test and fluid transfer application. Our connectors significantly reduce operating costs by increasing operational throughput, netting a quick return on your investment.

Thousands of satisfied customers have made the switch from inefficient, unproductive sealing methods to FasTest quick connection tools for their testing or filling needs. With over 30 years of extensive connector application experience, FasTest is ready to assist you in specifying the right connector for your application.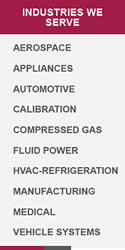 Complete Solution Provider.
FasTest Quick Connectors:
• Proprietary designs drive quality and efficiency throughout manufacturing process
• Robust design provides safe, repeatable connections for operators
• Dynamic seals that minimize seal stress to increase connector longevity, reliability and allow for increased sealing pressure
• Minimal required maintenance, easy seal replacement, long life and ergonomically friendly designs
• Global technical distribution network for responsive support
• FasTest Genuine Parts

FasTest
products are used for instant connections to internal or external cavities, tubing and threads to improve manufacturing productivity and quality.
Ports or holes; smooth, expanded, flared, beaded, barbed, form end swaged tubing; NPTF, flare, O-ring face seal, and BSP threads can be safely connected, sealed and leak or pressure tested repeatedly with FasTest connector products.

• Pressure Testing
• Vacuum Testing
• Filling & Flushing
• Refrigeration Evacuation & Charging
• Compressed Gas cylinder filling



• No wrench tightening or sealant needed
• Eliminates product damage and rework
• Ergonomically designed to minimize stress injuries
• Pressure operated safety locks eliminate blow-off
• Improve safety and reduce injuries



• Pneumatic operation for simple automation
• No operator adjustments necessary
• Ergonomic design
• Material Handling — Pick & Place


Supplier Directory Categories
Technical Articles