About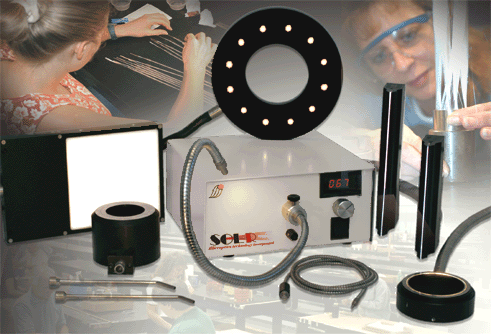 Your source for Fiber Optics, Fiber Optic Lighting and Illumination products by Fiberoptics Technology, Inc.
Manufacturing Standard and Custom fiber optics for Industrial, Medical, Commercial. Military and Machine Vision applications since 1977
Fiberoptics Technology Inc. has been engaged in the design and manufacture of Glass Fiber Optic Lighting for over thirty years. Proprietary processes for light line and light guide construction, feature-rich, cutting edge Fiberoptic Light Source illumination designs, and dual manufacturing locations in Florida and Connecticut set the company apart from the competition.
Ring Lights, Back Lights, Spot to Line (light lines), many different configurations of industrial photoelectric fiber optics, plastic light guides, quartz rods, Tapers, Goosenecks and Raw Fiber are supplied in standard and custom OEM configurations for metrology, quality assurance, surgical, endoscopy, web inspection, semiconductor and electronic automation, dental curing, adhesive curing, power transmission, automotive, and Star Ceiling Lighting applications to customers in the Machine Vision Lighting, Microscopy, Medical, and Commercial Lighting markets.
Few companies offer a larger selection of industrial Fiber Optic Cables and Optic Accessories for sensing or commercial/industrial fiber optic lighting. Our fiber optics light source family was designed with input from end users, OEMs and distributors who know the applications and requirements of the marketplace. The peripheral product offering is targeted to users who want or need a one stop source-of-supply.
FTI's standard products are consistent, robust, and state-of-the-art.

If you don't see what you need, call us. We'll work with you to design an optimal solution.

FTI produces the most borosilicate fiber of any vertically integrated manufacturer located in North America. Complimenting our drawing capability, 70,000 Sq Feet of production space also makes us the largest manufacturer on the continent.

FTI's Prototyping Service is unique in the industry. Many projects are completed 5 days after drawing approval.

Dedicated R&D and Engineering departments offer independent resources to design, test, and engineer concurrently.
Supplier Directory Categories
Fiberoptics Technology, Inc. is also listed in these categories:
Technical Articles


Fiber Skew: Definintion and Impact
(Fiber Optics)
Testing has shown that fiber skew causes great differences in light transmission between otherwise identical parts. Defining fiber skew is simple. Understanding the impact, and how to control the... (
View Full Article
)