About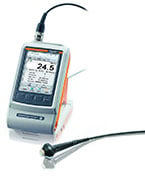 Coating thickness measurement requirements come in a variety of geometric shapes and applications. Not all parts are flat and not all applications are as simple as paint over steel. Fischer Technology is the leading innovator of Coating Thickness Measurement, Material Testing, and Material Analysis Instrumentation. By offering the widest selection of coating thickness measurement and related instruments, Fischer Technology provides solutions to ever changing applications.
Fischer Technology Defines the Difference
Many test methods are available from Fischer to solve measurement requirements. These methods include X-Ray Fluorescence, Beta Backscatter, Coulometric, Eddy Current, Hall Sensor, and Magnetic Induction. Fischer instruments utilizing these methods are available in bench top, as well as hand held configurations. Other Fischer Technology solutions include conductivity measurement and standards, ferrite content measurement and the quality of anodic seal.
Fischer DataCenter Software for Evaluating and Archiving Measurement Data
The FISCHER DataCenter (FDC) software significantly expands the functionality of FISCHER's measuring instruments with data interface (MP0R, FMP series, PHASCOPE, SIGMASCOPE, FERITSCOPE and others). FDC is included with these instruments and comprises all functions for convenient transfer, evaluation and printing of measurement data. The software provides for immediate evaluation of the measurement results and a quick overview of the process. With one click it displays a histogram, sum frequency chart, the statistical process control and Factory Diagnosis Diagram (FDD). Customized reports detailed with your own specifications can be generated immediately after data transfer. With the optional version DataCenter IP or IP Multi, the measurement results and evaluations are linked to attributes such as measurement location, name of operator, date and time. The inspection plans are created on a PC and transferred to the DUALSCOPE® FMP100 or FMP150 coating thickness gauge, the operator follows the detailed measurement instructions and then the data is returned directly to your own detailed inspection reports.
The FMP Series handheld instruments (DELTASCOPE®, ISOSCOPE®, DUALSCOPE®) coating thickness gauges with Fischer DataCenter software can measure thin or thick coatings, soft coatings, paint, powder coating, plating, anodize, duplex coatings, marine coatings, fireproof coatings, etc... A large selection of probes are interchangeable yielding extreme accuracy and a wide measurement range. The probes are designed for hard to reach areas, curvatures, surface roughness and even underwater measurement. Fischer coating thickness gauges measure over ferrous, non-ferrous, or both ferrous and non-ferrous substrates.
Applications
Fischer provides solutions to a wide variety of markets from complex aerospace or printed circuit board challenges to less complicated painting applications. Each customer has a unique challenge and the Fischer team is dedicated to providing a solution as well as providing outstanding after sale support including calibration and re-certification.
Contact Fischer and Learn How They May Solve Your Measurement Requirements
Fischer Technology has a highly trained and experienced staff to listen to your application and recommend the best test method and unit to meet your requirements. They also have both inside and outside sales engineers to provide demonstrations and/ or onsite calibration and re-certification of your Fischer test measurement instruments.
Supplier Directory Categories
Fischer Technology, Inc. is also listed in these categories:
Technical Articles