Profile Home
About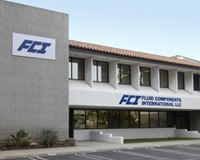 Fluid Components International (FCI) designs and manufactures mass flow meters, flow switches and level switches for industrial process measurement applications utilizing patented thermal dispersion flow measurement technologies.

FCI products deliver accuracy and reliability to the world's most demanding processes and industries including chemical, oil and gas, power and energy, water and wastewater, pharmaceutical, pulp and paper, nuclear power, aerospace, and many more.

All FCI products are tested and calibrated to rigorous standards to ensure you get the instrument that does the job you specified. To design and produce the highest quality flow instrumentation, FCI operates a world-class, fully NIST traceable flow calibration laboratory that is certified to meet such stringent standards as MIL-STD 45662A and ANSI/NCSL Z-540.

FCI is committed to high quality, local support and service throughout the world. Factory authorized sales and service centers are staffed with knowledgeable staff comprehensively trained on FCI instrumentation.

With over fifty years of experience and the world's largest installed base of thermal dispersion instruments, you can count on FCI to know your application and have proven sensor solutions that will save you time and expense.

FCI designs, manufactures and sells a broad line of air / gas mass flow meters utilizing thermal dispersion and measurement technology. Thermal dispersion technology utilizes the relationship between flow rate and cooling effect for direct measurement of mass flow. With no moving parts and minimal invasiveness, thermal dispersion is ideal and widely applied in air and gas applications, and provides a highly repeatable and accurate measurement.

FCI flow switches feature thermal dispersion technology in which the temperature difference is greatest in a no-flow condition and decreases as flow increases, cooling the heated RTD. Changes in flow velocity directly affect the extent to which heat dissipates and, in turn, the magnitude of the temperature difference between the RTDs.

Flow, Temperature, Level & Pressure Sensors and Systems for Aircraft FCI's AS9100 certified aerospace division produces flow sensors, temperature sensors, liquid level sensors and pressure sensors to aircraft manufacturers' exacting specifications for on-board applications.