About
Fluitec examines the cause-effect relationship between stresses on a machine or body and the fluid contained within. Our core competency is the understanding of oxidative stress and the monitoring of antioxidants. Our mission is to be the world leader in data collection, analysis, and mitigation of these stresses. Fluitec values truth, knowledge, long-life, wellness, high performance and individuality in its employees, products and services and delivers these values to our customers.
Fluitec is made up of a team of internationally recognized experts with a track record for delivering innovative solutions. Our expertise centers around increasing the reliability and profitability of manufacturing plants, rotating equipment and transportation industries. We accomplish this by combining our deep knowledge of contamination control and condition monitoring sciences with smart data analytics technologies.
Fluitec's clean technology solutions also deliver environmental benefits to our customers. Most sustainability initiatives require sizeable investments or government support to make them financially justifiable. Fluitec provides high level, rapid return investments that allow our customers to merge economics with sustainability.
Some of The Verticals Where Fluitec Provides Solutions Are:
Fossil, Nuclear and Hydro-fueled Power Plants

- Increased life performance of critical lubricating systems.

Wind Energy

- Advanced data analytics to slash operating and maintenance costs.

Manufacturing

- Improved reliability of rotating equipment and hydraulic systems through advanced contamination control solutions.

Petrochemical & Refining

- Lower operating costs by improving equipment energy efficiencies and system monitoring technologies.

Fuel

- Ensuring contaminant free diesel and biofuels to improve fuel economy and engine reliability.

Purchasing Pre-owned Equipment

- Insight into equipment health to make more intelligent purchasing decisions.

Laboratories

- Innovative technologies for monitoring antioxidant health and fluid deposit tendencies.

Industrial Gases

- Apply our technologies to maximize up-time and availability in facilities that make industrial gases, including critical compressor trains.

Consumer-focused Antioxidant Monitoring

- Fluitec has developed a proprietary method for measuring the health of antioxidant systems in humans and pets.
Fluitec currently has technology deployed in over fifty countries spanning five continents. Our team relentlessly pursues improved profitability for our customers. Join our family to realize these benefits for your operation.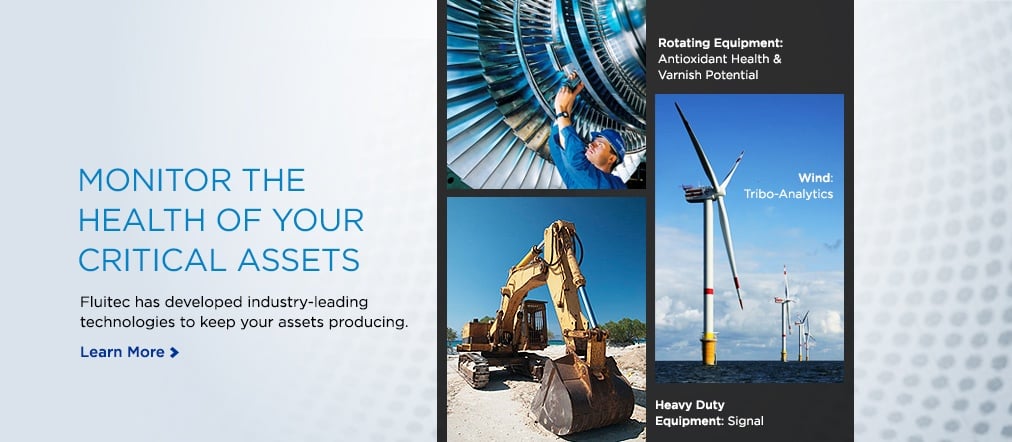 We are proud to have a team of internationally recognized experts in leadership positions around the globe in fluid condition monitoring, contamination control, lubrication testing, analysis and assessment. With over fifty published papers our focus has been on leveraging our knowledge with advanced technologies to help our customers realize their reliability and availability objectives.
By applying contamination control technologies such as varnish mitigation, control and mitigation have been developed to extend fluid life in gas turbines, steam turbines, compressors, and hydraulics by utilizing the latest in condition monitoring sciences to know the optimum time to change the fluid, and developing the technologies to mitigate the failure modes common within lubricants today, the end result is a positive environmental impact.
Fluitec provides our customers and partners leading-edge technologies and knowledge to realize optimum reliability and productivity on their plants. Our holistic approach maximizes the life cycle of rotating and hydraulic systems in an environmentally sustainable way.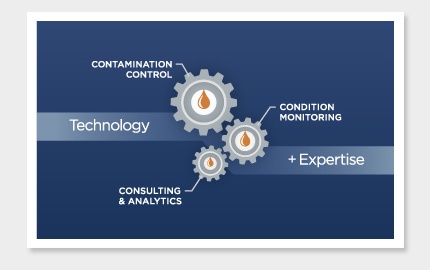 Fluitec's products and services fit into contamination control, condition monitoring or consulting. Entwined in these offerings is a confluence of our world class expertise and technology.
Our products are state-of-the-art and leading in the marketplace for innovations. From The ESP Varnish Mitigation, Ruler Antioxidant Monitoring, MPC Varnish Potential Testing, TriboAnalytics SaaS, Stealth EHC Moisture Removal, Spark-free Filters and the Boost VR (Varnish Removal), we are always driving improvements to help you keep your lubricating assets running optimally and without unscheduled shutdowns.
Contact us today to discuss the specific needs you have with our uniquely qualified team of experts.

For more about Fluitec watch this video!

Supplier Directory Categories