About
Precision Metal Parts by Fotofab: Chemical Etching. Metal Stamping. Rapid Prototyping
You need custom-made precision metal parts - chemical etching, metal stamping, RF shielding, or any custom part made out of metal. And you need them in a hurry. But you don't want to place an order with a company you cannot depend on. And you definitely don't want to compromise on quality.
Fotofab can help. They've been in the chemical etching and metal stamping business for years, so they know how to make your custom part quickly, accurately, and affordably… so you can get on with your business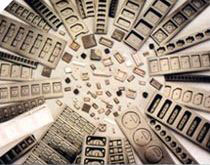 .
They also offer a selection of standard RF shields and can customize RF shielding to your specifications. Their rapid prototyping service is so efficient they can usually deliver your prototype within a few days of receiving your order, or their new Same-day delivery might be what you are looking for.
Through chemical etching and metal stamping they produce typical applications such as RF/EMI shields, screens, contacts, connector housings, lead frames, apertures and many more. What can they make for you?
Why Chemical Etching?
Chemical etching creates metal parts with a precision unmatched by traditional metal fabrication methods. The Fotofab Process delivers tight tolerances within .0005"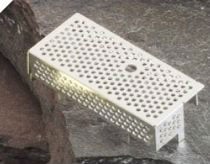 .
And because they can make and ship your custom part quickly and at fraction of the cost of machine-tooled parts, they know you'll be pleased with the Fotofab process.
Metal Stamping
Let Fotofab help you with prototype and production quantities. If your parts will be ramping up to production quantities, then progressive die metal stamping may be an option for you.
Contact any member of their Technical Sales staff and see if your quantities justify long-run stamping.

RF Shielding
Fotofab has been producing quality custom and standard RF Shields for years. Whether you need a simple 5 sided box or a complex multi-cavity shield with removable lid, Fotofab has a shielding solution for you. To make your custom shield to your specifications, visit their RF Design Guide page to learn about design capabilities. Their shields can be made to your specifications. They offer shields that can be delivered flat, formed, plated, removable lids, with or without logos and part numbers. Their standard RF shielding comes in 54 different dimensions, ready for immediate delivery. Or you may prefer their RF shieldin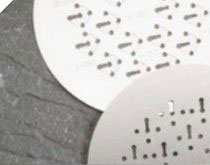 g prototype kit, which allows you the flexibility to design your own RF shields.
Rapid Prototyping
In a hurry? Fotofab can help you in a time crunch with Same-day, 3-day or 5-day delivery on custom metal parts. Schedules vary, but timing is everything - they deliver on time. Learn more about their rapid prototyping services.
Request a Free Quote
If you'd like a quote on a project, please fill out their request for quote online form. It costs you nothing to inquire and they'll get back to you promptly with an estimate.
Supplier Directory Categories
Fotofab Corp. is also listed in these categories: