About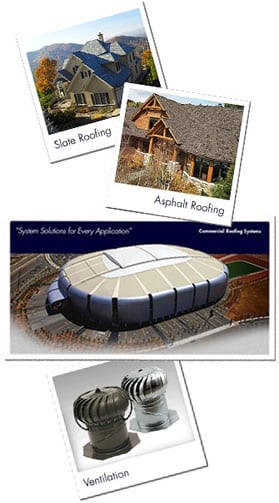 Founded in 1886, GAF has become the largest roofing manufacturer in North America. The company's products include a comprehensive portfolio of steep-slope and commercial roofing systems, which are supported by an extensive national network of factory-certified contractors. Its success is driven by its commitment to Advanced Quality, Industry Expertise, and Solutions Made Simple for contractors, specifiers, and property owners alike. In 2011, GAF was the first roofing manufacturer to offer a Lifetime limited warranty on all of its laminated shingles and, in 2012 it introduced the GAF Lifetime Roofing System.
GAF Steep-Slope Solutions
GAF revolutionized the way that shingles are sold by introducing Lifetime ltd. warranties on all its laminated shingles—an industry first.
GAF is also the first manufacturer to have all of its shingles pass ASTM D3161 Class F 110 mph and ASTM 7158 Class H 150 mph – the industry's two toughest wind resistance tests.
Leading brands include Timberline® Shingles, the No. 1-selling architectural shingles in North America.
With the rapidly increasing demand for upscale shingle options, GAF offers extensive Lifetime Designer Shingle options, including Ultra-Premium Camelot®, Grand Canyon™, Country Mansion®, and Grand Slate™ Shingles, as well as an entire line of value-priced Lifetime Designer Shingles that offer homeowners a truly affordable upgrade from standard architectural shingles.
GAF also offers the TruSlate™ Roofing System: real hand-split quarried slate installed with a high-tech, patented system, resulting in an affordable option for virtually any home. Perfect for new construction or remodeling, TruSlate™ increases the value of the home and includes a lifetime limited warranty.
The company's award-winning Certified Contractor Program has been judged by many to be the most extensive business-building program in the industry, and even includes warranties that cover the contractor's workmanship and a factory inspection of each completed roof. The Habitat for Humanity "Community Partner" and "Certified Green Contractor" programs help installers to differentiate themselves to homeowners. Dozens of other programs and exclusive marketing materials are available to help contractors to build their businesses.
GAF Commercial Solutions
Unlike some roofing manufacturers who seem to have a "one-technology-fits-all" mentality, GAF's goal is to help contractors build their businesses by matching the right roofing technology to their clients' specific needs. The company offers all major low-slope roofing technologies, including repair and maintenance products and roof restoration systems (often at half the cost of a new roof), as well as new roofing systems (BUR, MB, TPO, PVC, and composite systems). A new high-performance TPO product, EverGuard Extreme®, is available for use in solar or other extreme applications. In addition, a new, state-of-the-art ISO manufacturing plant is expected to be operational during 2012.
GAF offers a wide array of energy-smart options, some of which are ENERGY STAR® qualified and/or Title 24 Compliant, to take advantage of the growing interest in energy-saving, white reflective roofing.
Special offerings include the Well Roof™ Guarantee Extension through Certified Maintenance Professionals (extends a low-slope roof guarantee by up to 25% for free, as long as regular maintenance is performed; see the Well Roof™ Guarantee Extension for complete requirements) and the All-American Pledge™ Guarantee (the first NDL guarantee that covers both low- and steep-slope roofs on a single property).
Sustainability
With a focus on social responsibility, GAF has developed Advanced Protection® Shingle Technology, which provides superior durability and wind resistance while reducing the use of scarce natural resources. The company has also developed single-ply and asphaltic membranes with superior durability and high reflectivity to meet the most rigorous industry standards while helping commercial property owners and designers reduce energy consumption. In addition to GAF's rigorous internal sustainability efforts, GAF launched an industry-leading Certified Green Roofer Program and committed to a multi-year sponsorship of ShingleRecycling.org, which helps contractors and distributors connect with qualified shingle recyclers across the U.S. and Canada. Learn more at www.gaf.com/green.
CARE - The Center For The Advancement Of Roofing Excellence
Knowledge is the key to making sound roofing decisions. GAF is proud to support CARE - the Center for the Advancement of Roofing Excellence which has provided education to over 125,000 professionals. CARE's mission is to help professional contractors and distributors build their businesses through sales and management education, and to provide product and installation training to contractors, distributors, architects, property owners, and related industry personnel.
Supplier Directory Categories
GAF is also listed in these categories: