Profile Home
About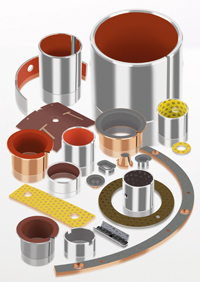 Pushing Boundaries to Co-Create a Higher Quality of Life
GGB, formerly Glacier Garlock Bearings, has the tribological, material science, and applications expertise to provide innovative solutions to even the most challenging requirements, either with standard offerings or with customized products developed in collaboration with its customers. The company also provides local applications engineering and technical support to assure the performance, reliability, and cost-effectiveness of its products.
GGB offers the industry's most extensive portfolio of self-lubricating and prelubricated bearings in a variety of configurations and materials, including metal-polymer, solid polymer, filament wound and metallic. Also offered are bushing blocks for fluid power applications, a complementary range of specialized housings and assemblies, and fluid film bearings for high-load, high-speed applications. These products are used in literally thousands of applications in hundreds of industries, where they offer users The GGB Advantage:
Lower system costs from space and weight savings of slim, compact designs
Low friction for energy efficiency, smooth operation, less wear and longer bearing life
Reduced maintenance from elimination of lubricants and lubrication systems
Bearing replacement options for costly roller bearings and heavy, bulky greased metal bearings
Environmental compliance with EU ELV and RoHS regulations
Customer support through a flexible production platform and global supply network
Among the industries using GGB bearings is automotive with more than 50 applications per vehicle. In these applications the bearings' absence of moving parts and low friction reduce noise, improve fuel consumption and provide smooth, reliable operation. The company's bearings are also used by the aerospace industry where their light weight helps reduce fuel costs, as well as in fluid power applications where their compatibility with hydraulic fluids and seizure resistance under low speeds make them ideal for use in gear and piston pumps.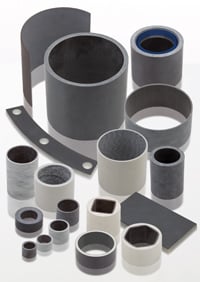 In addition, GGB bearings can be found in compressors where their self-lubricating properties offer superior reliability with low viscosity lubricants, and in construction and other off-highway equipment requiring low maintenance and grease-free operation under severe shock load conditions. In sports and recreation equipment they provide smooth, maintenance-free performance, offering the same advantages plus corrosion-resistance and environmental compliance for hydropower plants. In primary metals production, GGB bearings stand up to dirty environments and extreme temperature and load conditions. In the general industry, they are used in more than 30,000 different applications.
As the global leader in high performance bearing solutions, GGB serves more than 50,000 customers worldwide through its four-continent production platform and supply network. The company employs more than 1,000 people in 10 manufacturing facilities in Germany, the U.S., France, Slovakia, Brazil and China, and in sales offices in 18 countries. The company also maintains a global network of distributors.
With a history dating back more than 100 years, GGB revolutionized the bearing industry in the mid-1950s with the introduction of its well-known DU® self-lubricating, metal- polymer bearings, the first to use PTFE in the sliding layer, followed in the mid-1960s by its DX® bearings for lubricated applications.
Garlock Inc. was established in the late 1950s to distribute Glacier bearings in the U.S., and subsequently merged with Glacier to form Glacier Garlock Bearings. In 2002, EnPro Industries, a leader in engineered industrial products, acquired the company which has operated as GGB since 2004. In 2022, GGB was acquired by the Timken Company, a global leader in engineered bearings and industrial motion products.
Technical Articles

Axial Piston Pump
(Bearings and Bushings)
GGB Bearing Technology's low-friction, self-lubricating bearings offer a complete solution for the fluid power industry. (
View Full Article
)