About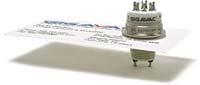 GIGAVAC® is the world's leading expert and supplier of high voltage relays and contactors. With decades of expertise in vacuum and gas-filled technology, GIGAVAC also offers small and compact sized EPIC™ (Extended Performance Impervious Ceramic) hermetically sealed contactors that can switch both DC and AC up to 750 volts and more.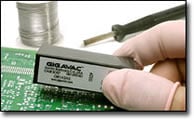 Founded by leading high voltage relay professionals, GIGAVAC has more high voltage relays in stock than all other suppliers and distributors combined. GIGAVAC's high voltage relays are rated up to 70kV and come in a variety of packaging. High voltage switching is achieved using vacuum, gas filled, and reed relay technology providing off-the-shelf switching solutions for most high voltage applications. The GIGAVAC Team understands switching and prides itself on providing the best customer service including free application assistance and talking with customers about their specific applications. Most GIGAVAC field sales personnel are graduate engineers and have been working in high voltage applications for years

.
GIGAVAC also offers a complete line of hermetically sealed contactors to switch 12 & 24 volts DC. These rugged contactors are able to perform in the most hostile environments providing failure free operation in extreme temperatures and high shock and vibration environments. GIGAVAC EPIC™ sealed contactors are small, low cost, have low coil power, and are the preferred product for military vehicles, solar, stand-by power and battery back-up , electric vehicle applications and various specialty applications such as trains, bus and transit vehicles, heavy equipment, and mining vehicles. GIGAVAC can also incorporate electronics into these packages to provide sensing, control, and communications.
GIGAVAC highlights:

High voltage and RF relays
DC and AC hermetically sealed contactors
Vacuum, gas filled, reed relay, and EPIC™ hermetically sealed contactor technology
Largest High Voltage relay inventory with off-the shelf selection
World-wide delivery with sales in your currency
Free expert application assistance with both web based answers and direct communications with engineers
Special packaging and built-in electronics available
Supplier Directory Categories