About
Founded in 1986, GL Communications Inc. is a leading supplier of test, monitoring, and analysis equipment for, IP, Optical, Wireless, and TDM networks.

GL Communications Inc. provides consulting services for telecommunication companies all around the world. We offer consulting services for WIRELESS, SONET/SDH, T1/E1, and T3/E3 testing and analysis, and system design of wireless, satellite, fiber optic, and microwave networks.

With its proven expertise of over 30 years, GL has a comprehensive suite of telecom testing solutions to verify and ensure 'quality and reliability' of variety of telecom networks including Wireless, and high-speed fiber optic lines. Unlike conventional test equipment, our test platforms provide unprecedented visualization, capture, storage, and features without sacrificing portability, convenience, or cost-effectiveness.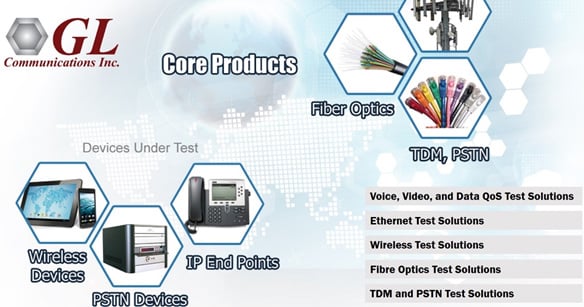 GL's test tools range from simple PC-based software test tool to all-encompassing hardware units with futuristic expansion capacities. GL's test solutions cover wide array of networks:
• WIRELESS (5G NR, 4G (LTE), 3G, 2G)
• IP, Ethernet,
• T1, E1, T3, E3, PSTN
• OC-3/STM-1, OC-12/STM-4
The tools are widely used by the telecommunication industry for conformance testing, automated stress/load testing, performance testing, remote accessibility, centralized web-based control and analysis, fault testing and analysis, and customized testing.
A broad classification of the test and measurement solutions based on different networks is detailed in the
Company Overview
brochure. Please visit
www.gl.com
for any additional information regarding GL's products and services.
Supplier Directory Categories
GL Communications, Inc. is also listed in these categories:
Technical Articles