About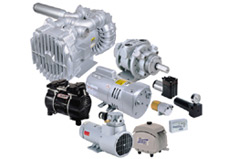 Gast Manufacturing, Inc. designs and manufactures quality air-moving products - vacuum pumps, compressors, air motors, gear motors, vacuum generators, regenerative blowers and Smart Air technology - to meet the many challenging applications of OEMs and end-users worldwide. But much of our success can be attributed to the foresight of our founders, the dedication of several generations of employees, and an unwavering commitment to our customers.
Whether it's an industrial manufacturing, health care lab, or environmental cleanup application, Gast can create custom, cost-effective solutions to any pneumatic problem.
Unparalleled Design Expertise
While Gast has an extensive line of ready-to-ship products, they also realize your air-handling problems are sometimes so unique they require customized solutions. If so, their engineering experts in product and process technologies are available to analyze your situation and propose customized, cost-effective design solutions that work.
A Lasting Commitment to Quality
One of the reasons for their success is the investment Gast makes in their people, and their quality processes. Their meticulous quality processes were a critical factor in achieving ISO 9001 certification, the most stringent of the three ISO quality standards. This international badge of world-class excellence means that they are a member of an elite group made up of fewer than 5% of the manufacturing companies in the world receiving that certification. Gast also achieved ISO 14001 certification, which reflects their commitment to environmentally friendly business practices.
European Community Directives
Given their international presence, Gast is committed to conforming with European Community Directives. These directives contain essential requirements concerning health, safety, environment and consumer protection for all products targeted to the European Community market. Currently, all Gast products available for sale in the European Community are in compliance with the Machinery, Low Voltage and Electromagnetic Compatibility directives.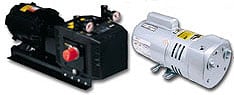 IDEX and Gast Team Up
On January 21, 1998, Gast was acquired by IDEX Corporation as part of their Pump Products Group. IDEX, an acronym for innovation, diversity and excellence, manufactures proprietary pump products, dispensing equipment and other engineered products for a variety of global markets.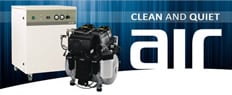 JUN-AIR
The quiet JUN-AIR compressors are designed for a countless number of uses and can be found in laboratories, dental clinics, medical and industrial applications worldwide.
Supplier Directory Categories
Gast Group is also listed in these categories: