About
Gearing Solutions® The creator of MaxaMinRoller Gears featured in our Roller Chain Gearheads and Gearboxes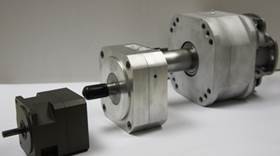 Gearing Solutions is a design and manufacturing company that produces Roller Chain Gearboxes that can be half the size and weight of other gearboxes on the market, with additional points of lubrication for longer life.
Over the last 30 years we have perefected our Motion Control technology, developing a proprietary engineering process called the Gearing Solutions MaxaMin™ System. This system provides a host of benefits to our customers.
Our product lines include: the GHP Series Planetary Gearheads, and NEMA Adapters. Ask us about our YAW DRIVES!

Our gearboxes are made using NU LOBE™ gears, which optimize the roller gear profile. These gearboxes are up to 50 percent lighter and able to pack more torque in less space. The modular design of our gearbox components allows for increased range, the ability to expand motor capabilities, helps the motor run at rated speed, and allows for quick repairs.
Our products are available in numerous ratio combinations. Other unique designs are offered through our Engineer To Order program.
Maximum torque–minimum space.
The development process, fueled by demands from evolving industries, has led to many uses for this new technology. Examples include: auger drives, industrial mixers, welding robots, portable honing machines, ergonomic valve actuators, drives with counter-rotating double outputs and speed increasers – a long list.
The 3rd generation roller gear matrix ranges from under an inch in diameter to over 48 inches: inputs range from as little as 4 inch pounds to 10,500 inch pounds and up. These gears can be combined to create more than 1,200 ratios. Rounding out the GS capabilities are an automated drive train engineering program, efficient prototyping skills and short run capabilities. This system can modify housings and shafts to adjust drive trains to fit your requirements and budget.
Get to know GS with a completed questionnaire or a telephone call at 440-498-9538.
Supplier Directory Categories