About
A 21st century company dedicated to the needs of the 21st century generation.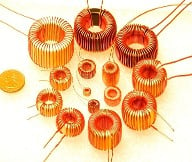 General Magnetics Corporation was established to bring quality magnetic components to the OEM industries.
Using the latest state of the art equipment and manufacturing techniques, we can offer the most advanced line of quality components, as well as the most optimized solutions to your magnetics needs.
We specialize in the design and manufacture of precision current transformers and inductors ranging from 1/4" to 2.5". By choosing our products, you can ensure the safety and reliability of yours.
Our engineers are available to assist you with your special requirements.
Supplier Directory Categories
Technical Articles

Current Transformer Overview
(Inductors)
A current transformers (CT) is a device that can detect a current through a wire passing through its center. This wire constitutes a one-turn primary for the transformer, and the winding on the CT... (
View Full Article
)