About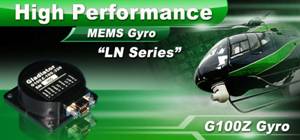 Gladiator Technologies, Inc. is a leading designer and manufacturer of high performance MEMS inertial sensors, systems and integrated GPS. The company is headquartered in Snoqualmie, WA, USA, just outside of Seattle in Washington State. The company also maintains a sales office in the United Kingdom and employs an international technical sales network around the world. The company is U.S, Germany, French and Italian owned and lead by an international team of Board of Directors. The Board includes the retired Director of Technology for the Boeing Company, the former CEO and Chairman of Safeco Financial (at the time one of the largest financial institutions in the U.S.), a leading international export attorney as well as directors from both Germany and France. Their engineering team has been credited with more than 66 patents in a broad array of inertial and MEMS sensor technologies and related systems throughout their inertial sensor and system design careers. The highly experienced management team has a combined more than 100 years of design, manufacturing and executive experience in:
High performance MEMS inertial sensor design (gyros & accelerometers)
Inertial grade accelerometers for commercial & military applications
Inertial and tactical grade inertial systems (IMU's, INS/GPS) for commercial & military applications
Kalman Filter and INS/GPS design and system integration
Design experience with a host of inertial technologies including Ring Laser Gyros (RLG), Fiber Optic Gyros (FOG), Dynamically Tuned Gyros (DTG), Amorphous and Crystalline Quartz Accelerometers, Quarts MEMS Rate Sensors, Silicon MEMS Accelerometers, Gyros and Multi-Sensors
About Gladiator Products
Gladiator Technologies offers range of high performance gyros, accelerometers and various systems products. Their systems are sold under the LandMark™ brand and include from low cost to high performance families of Inertial Measurement Units, (IMU), Vertical Gyros (VG), Attitude and Heading Reference Systems (AHRS), GPS-Aided Vertical Gyros (VG/GPS), GPS-Aided Attitude Heading Reference Systems (GPS/AHRS) and GPS-Aided Inertial Navigation Systems (INS/GPS).
A comparison of the product families, product models and key performance parameters of Gladiator Technologies' inertial families is below: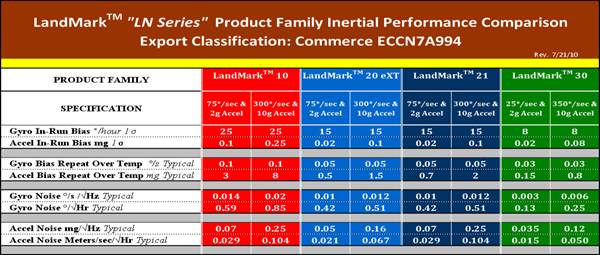 * click on image to expand and download inertial families and performance comparisons chart
All Gladiator Technologies' IMU's have a common messaging protocol enabling a user to have a "common cockpit" to move up or down in performance without having to change any software in their system. All of their IMU's feature internal vibration isolation, precision alignment and environmental sealing for robust performance in challenging environments.
Supplier Directory Categories