About
Conveying Solutions Through Innovations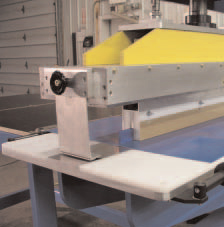 Great Lakes Belting & Supply Corporation takes pride in knowing the West Michigan conveyor belts and other products they offer to their customers are the best in the industry.
Great Lakes Belting & Supply offers a full line of custom in-house fabrication on stock and special order materials. Absolutely any belt fabrication you require (process, conveyor, or power transmission) is available from GLB. They also offer complete on-site conveyor belt, process belt, and transmission belt installation at your facility, on a 24-hour, 7 days a week basis.
In addition to belting, Great Lakes Belting & Supply also offers free-of-charge plant surveys and conveyor system engineering services to their customers. Their experience and well-trained service technicians and sales engineers are available to assist you in your facility at your convenience. For their OEM customers, they offer custom belting design services to help you design and build the most competitive system possible.
Conveyor, Process and Flat Power Transmission Belts
| | |
| --- | --- |
| | Some foods are oily, greasy or wet. Some are carried frozen, some steaming hot. Many leave juices, acids, or particles that can stain or contaminate. Some foods grind at a belt cover and wear it away. Because different foods behave so differently, Great Lakes Belting and Supply Corporation of West Michigan and Indiana offers a wide selection of lightweight carcasses and specially-compounded covers designed to deal with a variety of conditions. All meet the very latest FDA and USDA requirements for food, drugs and cosmetics. |
| | More and more manufacturers of auomated equipment are looking to conveyor belts as an integrated part of their systems and products. Today's belts must often resist attack by industrial oils, grease and chemicals. They often need to operate effectively in low or high temperatures. The covers must be built tough enough to stand up to persistent impact and abrasion from all sizes and shapes of small parts. Great Lakes Belting and Supply Corporation of West Michigan and Indiana serves all of these needs. |
| | In every situation, it's important to weigh original cost against expected service life to determine which belt will be the most cost-effective. For these reasons, Great Lakes Belting and Supply Corporation of West Michigan and Indiana gives you an ample range of fabrics, weights and textures. |
| | These are belts that are designed for use in the paper converting industry. This includes printing, corrugated manufacture and box folding. GLB also has belts to handle scrap and finished product as well. GLB also offers the Habasit product line of machine tapes and round belts - specially designed for the demanding applications of printing and paper processing. These tapes and belts can be spliced on your equipment within five minutes without the use of potentially dangerous chemicals or adhesives. |
| | Metal stamping, in-line die cutting and many other process applications can find solutions that employ these products. Here you will find solutions to many diffcult applications. |
Products Offered:
Conveyor Belting
Process Belting
Transmission Belting
Specialty Hose, Ducting, and Fittings
Conveyors of all Types
Custom Die-Cut Shapes and Gaskets
Urethane/Polyester Round Belts (Eagle)
Urethane/Polyester V-Belts and Special Shapes
Table Top Chain

Belt Cleaning Systems
Vulcanizing Equipment
Belt Lacing and Fasteners
Timing Belts (All Types)
Engineering Class Chain
Roller Chain and Sprockets
Pulleys, Idlers and Rollers
V-Belts, Sheaves and Reducers
Rubber Skirting and Sheet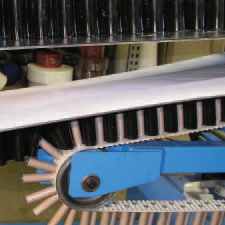 Great Lakes Belting & Supply Corporation began July 1st, 1989. A two-man partnership, Dale J. Wills and Kip Kerby began with over 30 years of combined experience, striving to form a company that would grow and become a leader in the conveyor belting industry. On August 30, 1993 the company experienced a complete loss of facility, equipment and inventory due to fire. With determination and the help of supportive suppliers, the owners and employees continued uninterrupted daily operations. Great Lakes Belting & Supply continues to strive to be a safe, rewarding workplace, a community-friendly business and an excellent supplier to their customers.
On March 7, 2003, Great Lakes Belting & Supply became registered to the ISO 9001:2000 quality standard. They are very proud of this achievement and are dedicated to continual improvement not only in their processes, but also in their management of all of their human and material resources.
Great Lakes Belting & Supply is constantly in search of state-of-the-art processes and equipment that will improve their efficiencies and the quality of the products they provide.
Supplier Directory Categories
Great Lakes Belting & Supply Corporation is also listed in these categories:
Technical Articles