About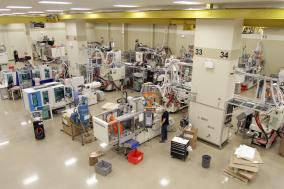 HTI Plastics is dedicated to manufacturing high quality injection molded products, providing timely deliveries and creating an atmosphere of continuous improvements where all employees strive to keep both internal and external customers satisfied.
HTI Plastics understands that in today's world you are looking for a company that is knowledgeable within your industry, provides excellent service and high standards of quality products. Our team will work with you from inception throughout the lifetime of your project.
Founded in 1985, our humble entrance into the plastics manufacturing business was as a small molder, in-house engineering, and tool room, and we trace our product debut to the design and manufacturing of one of the first vaginal applicator. Today, our plastic pharmaceutical applicators are used in a wide range of treatments in both prescription and over-the-counter markets, and we've expanded into the design and production of custom and proprietary thermoplastic injection-molded products for a variety of pharmaceuticals, animal health, food packaging, sporting goods, and other custom products.
PRODUCTS
We have a reputation for engineering complicated devices with tight tolerances that are designed to meet exacting standards. Besides our worldwide recognition for innovative medical devices, we have proprietary products in animal health, food and consumer packaging, sporting goods and industrial manufacturing.
Our expertise with our own products affords us the skills necessary to help you create or enhance your products so they stand at the forefront of your competition. We use leading-edge technology to design, engineer, manufacture and deliver products that will ensure remarkable results in form, fit and function. Our value-added services allow us to produce the highest quality products efficiently and economically, which is the bottom line for our customers.
Our modern facility is comprised of the latest in injection molding processes, machines, and robotic technology. We also offer our on-site design and manufacturing engineers' who will work closely with you to ensure satisfaction - from start to finish.
At HTI Plastics, you can be assured that we know what your industry standards are and make sure that we exceed them with the manufacturing of your product. Let us show you how we can do it for you.
Supplier Directory Categories
Technical Articles

Designing a Plastic Part
(Molding Services)
HTI Plastics is dedicated to manufacturing high quality injection molded products, providing timely deliveries and creating an atmosphere of continuous improvements where all employees strive to keep... (
View Full Article
)