About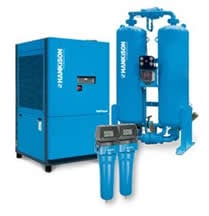 Hankison has built a global reputation for manufacturing quality compressed air treatment solutions. For over half a century, Hankison has provided customers in the compressed air industry with the latest technology producing superior results.
The foundation that was laid at the company's inception in 1948 has since been expanded to include five manufacturing facilities on three continents and a state-of-the-art research and development framework within which products are conceived, designed, tested, and manufactured.
Hankison provides quality refrigerated, desiccant and membrane dryers, compressed air filters, breathing air purifiers, condensate drains and oil/water separators to improve productivity and save energy. They are dedicated to pursue the best solution in an expanding marketplace to manufacture products that meet customers' performance, quality and energy saving requirements.
Hankison is recognized as the world leaders in their areas of expertise and offer the following:

Complete in-house design and engineering capabilities
Major components and systems are manufactured by Hankison to control quality, maximize value, enhance lead-times, and deliver superior performance.
Multifaceted distribution channels that combine manufacturer representatives, independent distributors, private label arrangements, and direct factory sales.
Advanced technology, product differentiation, custom engineering, pre and post sales support, training, reputation, and global capabilities.
Organic and inorganic profitable growth strategies include new product development, new market development and, international expansion through joint ventures, strategic alliances, and effective marketing.
Hankison participates in numerous trade memberships, has obtained global certifications for its major product lines, and has achieved ISO 9001 certification, the internationally recognized standard for quality assurance.
Hankison will continue to excel by providing the best service, sales support and breadth of products to their valued customers.
Choose Hankison: Sustainable Energy Saving Solutions for Your Critical Applications!
Supplier Directory Categories
Hankison, An SPX Brand is listed in these categories: