About
Liquid Molding Technology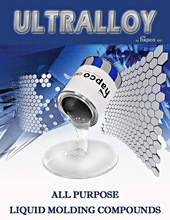 Supplying industry and individuals with thermoset plastics and dispensing equipment for over 40 years!

Hapco is a world-leader in the design, development and manufacture of thermoset polymer alloys including; high-strength urethanes and epoxy resins for parts and tooling production, potting and encapsulating compounds, Liquid Molding™ plastics and structural adhesives.

We also manufacture and sell portable meter-mix dispensing equipment designed to eliminate the measuring, mixing, and mess associated with hand processing two-component materials. Our in-house experts can provide the know-how to help you get the job done right. Contact us for an in-depth review of your project needs.
Hapco, Inc. is an ISO 9001:2008 certified Company.
Supplier Directory Categories
Hapco, Inc. is also listed in these categories:
Technical Articles

3D Printing is Hitting the Mainstream
(Manufacturing Equipment and Components)
The world's first 3D printed gun was successfully fired a few weeks ago and besides sparking numerous debates about gun laws and regulation of this technology, it also introduced 3D printing itself to... (
View Full Article
)

A Helpful Guide to Casting Clear Resins
(Plastics, Elastomers and Polymers)
Achieving optically clear parts using thermoset liquid molding is not impossible. But as anyone with experience will tell you it's not a slam dunk either, especially if the cast possesses complex... (
View Full Article
)