About
The Experts in Medical Storage, Delivery & Security Solutions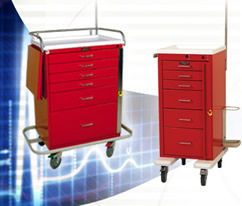 The Harloff Company (previously Harloff Manufacturing Company) has been in continuous existence since 1951 and under the present ownership since 1986.
The company was started by Norman Harloff, a retired petroleum engineer. While touring the American West in 1949, he observed that the primitive motor hotels of the time made their maids carry sheets from a central storage area to the various rooms. This back and forth motion struck him as a waste of time and effort, and he proceeded to design and build the world's first Maid Cart.
Settling in Colorado Springs, Mr. Harloff first built maid carts in his garage before setting up a small manufacturing company. The company became well known and respected by both national hotel chains and local mom and pop properties for its durable, high quality wheeled products.
In 1986 Mr. Harloff sold the business to the current ownership. The company was just starting to investigate the medical market as a new business area to apply its fabrication skills. The new management team sped up the development of a ground-up redesign of the typical crash cart and brought the Harloff Classic line to distribution customers in 1988. Harloff medical carts quickly became recognized for their high quality, innovative design features, and favorable turnaround times.
In 2001, Harloff consolidated its hotel operations at a sister company in order to dedicate resources to growing its Medical Products division. This successful strategy gave Harloff the ability to increase product development and customer focus.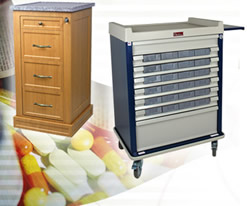 The results of this product focus are shown in the many new and innovative products Harloff introduced such as our MRI-Compatible line, our Mini- Line, and a broad line of Narcotics and Medicine cabinets. We have also introduced a complete line of medication carts designed for the Long Term Care industry.
Harloff has established a national organization of top-tier local representatives to work with our customers and end users as well as a highly trained internal support staff that is well-regarded for their rapid and accurate response.
Harloff has a proven ability to design ground-up custom projects based on unique customer requirements. We maintain both in-house design and engineering and outside consultants for these projects. Our diverse production capabilities include expertise working with stainless steel, painted steel, aluminum, and wood laminate.
Harloff can proudly say we have been providing Storage, Delivery and Security Solutions since 1951. Let our team be a part of your solution today.
Supplier Directory Categories