About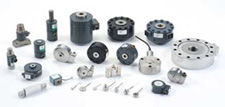 Honeywell Test & Measurement sensor solutions help customers worldwide in research and development, design, quality testing, manufacturing, and system monitoring in many different industries,challenging applications, and rugged environments.

Learn more about the broad range of products available to support your test and measurement needs.

Load Cells

Broad range of tension, compression and universal measurement load cells manufactured as standard, modified standard and custom sensors. Stainless steel construction for enhanced reliability.

Pressure Transducers

Wide range of absolute, gage and true gage pressure sensors. Includes high pressure, flush diaphragm, amplified, unamplified and other versions.

Torque Transducers

Reaction (non-rotating) and rotary torque sensors that use bonded strain gage technology. Machined from stainless steel, and temperature hardened for low torsional deflection.

Accelerometers

Standard to custom products to meet a broad range of frequencies, overloads, operating temperatures, size and mounting configurations.

Displacement Sensors

Wide range of linear voltage differential transducer-type (LVDT) displacement transducers designed to meet requirements of most single and multiple-point industrial gaging applications, as well as micro-displacement instruments in research and scientific laboratories.

Instrumentation

Wide range of instruments including single-channel, multi-channel and microprocessor-based units to condition, monitor and record signals.
Supplier Directory Categories
Honeywell Test & Measurement is also listed in these categories:
Technical Articles