About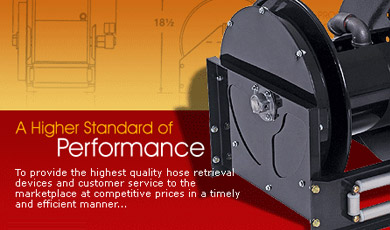 Hosetract Industries was formed in 1985 out of a need in the marketplace for trouble free, affordable hose retrieval devices. We have grown into a respected quality leader in the market place. We operate from a new 45,000 square foot facility, located centrally in the U.S. which houses sales, engineering, manufacturing, and customer service. With over 2500 distributors nationwide, we are able to serve your needs from coast to coast in a timely and efficient manner.
Hosetract Industries is one of the nation's leading manufacturers of industrial hose reels. Our central location in Fort Wayne, Indiana assists in responsive distribution nationwide.
With over 25 years experience in the hose reel marketplace, our engineers are qualified for your applications.
Hose reels are our only business... so we concentrate all of our attention to bring you the best of quality and competitive pricing.
Our Reels:
Compact sizes
Heavy gauge metal
Maintenance-free design
High gloss durable poweder-coat or stainless steel
Corrosive-resistant zinc fasteners
One year full warranty (hose excluded)
Made in the USA
For the distributer nearest you or for a copy of our latest catelog, call us toll-free: 888-489-8828.
Supplier Directory Categories