About
IMEC -- Specializing in Precision!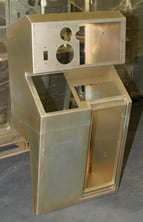 IMEC is a custom manufacturer of precision sheet metal fabrication and machined parts for other manufacturers. Established in 1982, IMEC has found that a commitment to investing in people and equipment has enabled steady growth and added services to customers. Quality is ensured through skilled employees, modern CNC equipment and a dedication to meeting customer needs and expectations, while providing quick turnaround of required components. Certification to ISO 9001 is another confirmation of IMEC's commitment to quality.

With 45,000 square feet of plant space, we at IMEC are proud of our modern and clean manufacturing facility. We have selected the equipment and follow the processes that allow quick setups on small to mid-sized lots, and use tooling designed just for this type of production. Our equipment allows selection of the best machine and process for each particular part, resulting in an optimized cycle time based on quantity and delivery requirements. Multiple machines, and an ability to run "lights out" with our Mazak Laser, allow us to deliver when short lead times and quick delivery are required.

Supporting equipment gives IMEC the ability to perform many additional operations, giving our customers not just a part, but instead a completed assembly or subassembly. Hardware insertion, welding, spot welding, graining and finishing are some of the regularly performed operations. In-house powder coating means delivery when required for painted components.
IMEC welcomes the opportunity of producing and delivering to "Just in Time" schedules and "Ship to Stock" programs.
IMEC is committed to producing quality products with continuous improvement to fulfill our customers' needs and expectations.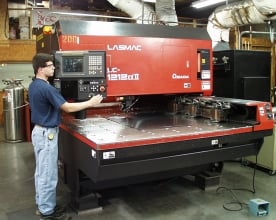 At IMEC, total quality is a commitment. We have pledged to produce superior products and manufacture them to only the highest quality standards in order to meet the needs of our customers. We continue to improve our quality standards and manufacturing systems in an effort to make our company the best.
IMEC has been certified to the ISO Standard since 1999, and in 2009 recertified to ISO 9001-2008 revision. Our quality system encompasses all aspects of the business, and every employee bears some personal responsibility in helping to maintain and improve it. Careful control of all documentation and manufacturing processes, thorough product inspection, and a skilled administrative and production team help us to be extremely responsive to the special needs of our customers.
Supplier Directory Categories