About
INTEC Energy Systems is a German company internationally recognized for excellence in the design, manufacturing and delivery of energy systems, with plants worldwide. INTEC plants represent state-of-the-art technology. The product range is comprised of:

Thermal oil heaters
Solid fuel firing systems
Reciprocrating step grates
Fluidized bed combustion systems
Waste heat boilers
Auxiliary equipment
Service
Steam generators
High pressure steam boilers
Power plants

INTEC-plants often use thermal oil as the heat transfer medium. Thermal oil boasts significant advantages compared to steam or hot water, particularly that it can be heated at atmospheric pressure up to temperatures of 300°C (572°F) with mineral oils, or 400°C (752°F) with synthetic oils. Thermal oil is consequently the predominant medium used in the supply of process energy for a majority of industrial processes.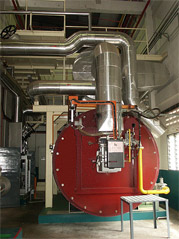 INTEC energy plants supply process heat for various industries:
Wood industry
Textile industry
Palm oil industry
Chemical industry
Shipbuilding industry
Food industry
Pulp and Paper industry
Petrochemical
Solar power generation
Core components like pressure vessels, waste heat boilers, secondary control loops, combustion systems, etc. are manufactured and assembled at our subsidiary INTEC Rohrtechnik GmbH in Bruchsal, Germany which guarantees fast and flexible solutions to customer needs, while adhering to German manufacturing quality standards.
Schneider-Kessel Berlin®, a division of Intec
Schneider-Kessel Berlin® manufactures high quality industrial boilers as steam and hot water generators designed to meet the individual specifications of our clients. Water Tube Boilers in Eckrorkessel Design are manufactured in our German facilities for the European market. Our entire range of products, Water Tube Boilers in Eckrorkessel Design as well as Flame Tube boilers in Three Pass Design are manufactured in our facilities in Thailand for the Asian Market.
Supplier Directory Categories