About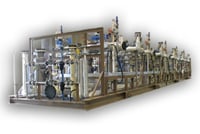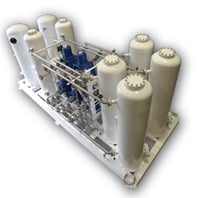 IPI Fabrication specializes in the custom fabrication of process equipment. In addition to providing conventional job shop products such as tanks, pressure vessels, heat exchangers and piping assemblies, IPI Fabrication provides full service capabilities to furnish packaged systems. Beginning from flow diagrams, P&IDs, or schematics, IPI can deliver complete turnkey shop fabricated, skid mounted modular process systems which meet the client's schedule and budget demands. Typically, IPI's services include project planning, cost estimates, scheduling, layout, drafting, procurement, quality control, fabrication, testing, inspection and shipment; all of which are performed in close compliance with ASME standards.
Work activities performed by IPI Fabrication are conducted in accordance with the requirements of the ASME Boiler and Pressure Vessel Code and The National Board of Boiler and Pressure Vessel Inspectors and other recognized standards, as required.
IPI's facilities include over 77,000 SF of manufacturing space with high bay features serviced by full access bridge cranes. IPI's location provides easy access to the interstate highway system and rail. Overseas export is readily available from the nearby ports of Charleston, Savannah, and Wilmington.
IPI Fabrication is one of three divisions of Industrial Piping, Inc. Other IPI divisions include IPI Process Mechanical which provides comprehensive construction services specializing in industrial process equipment installations and process piping installations. IPI Fire Protection specializes in design, fabrication, and installation of complete interior and exterior automatic fire protection systems.
Supplier Directory Categories
IPI Fabrication is also listed in these categories: