About
IQMS Manufacturing ERP Software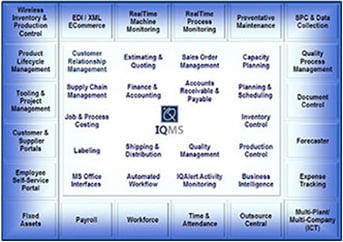 Increase efficiency and profitability with the manufacturing industry's most comprehensive Enterprise Resource Planning (ERP) and Manufacturing Execution System (MES) solutions from IQMS. Designed and developed to address industry and functional-specific applications of the manufacturing companies world-wide, EnterpriseIQ, offers the largest footprint of ERP, manufacturing and supply chain software modules in the industry developed by a single software company. The single vision approach enables complete enterprise-wide visibility without the costly integration of multi-vendor solutions.
Whether you are a small, single plant manufacturer or a large multi-plant, multi-national manufacturer, IQMS has a Manufacturing ERP Software solution to fit your needs. The scalable architecture of EnterpriseIQ provides manufacturers the flexibility to move to more advanced Manufacturing, MES and ERP software features and functionality when needed. IQMS solutions include:
Complete ERP and MES Solution – Since 1989, IQMS has been providing manufacturers with the only complete real-time manufacturing, enterprise and supply chain solution that delivers end-to-end visibility of your organization. No other single system provides you so many tools to analyze crucial information for continued growth, success, and profitability your manufacturing businesses.
ERP Solution – The backbone of successful single and multi-site manufacturers, EnterpriseIQ's cost effective ERP modules drive accurate decision making through its comprehensive suite of front and back office modules that include: CRM, financial management and eCommerce, HR, production planning and scheduling, inventory and warehouse management, quality control and more.
MES Solution – EnterpriseIQ MES offers a complete manufacturing execution software solution to prevent costly downtime, while increasing manufacturing efficiency, quality and profit margins. With unmatched, real-time production monitoring, data-capture and analysis tools on the shop floor, to quality, inventory management, and detailed visibility and tracking, IQMS provides an MES solution that will allow you to embrace lean manufacturing principles.
IQMS proudly boasts one of the highest customer retention rates of any ERP provider. Customers are supported through free software upgrades, award-winning customer support, an active online community, and active users meetings. With offices across North America, Europe, and Asia, IQMS serves manufacturers around the world.
Supplier Directory Categories
Technical Articles

Why ERP Systems Fail to Perform
(Enterprise and Plant Management Software)
Unfortunately, there is no magic bullet to explain why ERP systems fail to meet expectations. It is typically a series of minor problems that lead to a downfall. The whitepaper, Why ERP Systems Fail... (
View Full Article
)