About

Your goal: A brand new culvert with better flow capabilities.
Are your culverts in need of repair or replacement? Culvert damage and aging isn't something we look for every day. It's usually out of sight and, unfortunately, out of mind. Deteriorating culverts come quickly to mind when roadway damage caused by corroded, rusted and washed-out culverts occurs. Traditional culvert replacement methods are an expensive, time-consuming, labor-intensive process.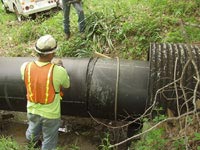 Your solution: Snap-Tite Culvert Lining pipe.
Finally, there's a no-dig solution to culvert lining and culvert rehab in the form of Snap-Tite. Culvert rehabilitation utilizing the Snap-Tite Culvert Lining System is an intelligent, cost-effective solution to this need. Snap-Tite rehabilitates a failing culvert lining system without the need to remove the existing deteriorated pipe. The Snap-Tite Culvert Lining System actually outperforms the concrete and corrugated metal it rehabilitates. Lightweight, flexible, durable HDPE has an indefinite service life. And the Snap-Tite culvert lining joining system assures a water-tight seal at all joints.
Trenchless Technology Rehabilitation at its best.
The Snap-Tite Culvert Lining System is unmatched in ease of installation. It's no-dig approach to rehabilitate a failing culvert by using the trenchless technology approach results in minimal training and no specialized equipment to complete the project successfully. Simple installation means light duty equipment and less manpower. Minimal disturbance of right-of-way. Indefinite service life. When considering these benefits, it becomes clear that the Snap-Tite Culvert Lining System is the most cost-effective way to rehabilitate deteriorating culverts. It may just be the last solution you'll ever need.
Better Performance and Easy Installation / Sizes to Suit Your Need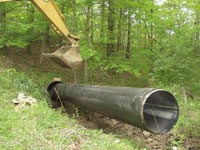 s
High density polyethylene pipe (HDPE) with the Snap-Tite Culvert Lining System has tremendous advantages over concrete and corrugated metal replacement or repair. Snap-Tite Culvert Lining piping comes in lengths ranging from 2 to 50 feet allowing minimal disturbance of Right of Way. Facing a damaged culvert next to a high embankment? Not a problem with Snap-Tite. Small segments can be "snapped" together, all with strong, water-tight seals. Because of Snap-Tite's ease of installation and variable lengths, 95% of culvert repairs or rehabilitations can be done off road. This means increased safety for both your workers and motorists. Traffic disturbance can be a thing of the past; all work is done in the culvert itself, not by digging up roadways.
These advantages also make Snap-Tite Culvert Lining pipe the perfect answer for culvert extensions, road-widening, direct burial applications, drainage, dam levee and sewer repairs with limited access.
Supplier Directory Categories
ISCO/Snap-Tite is also listed in these categories:
Technical Articles


Denver, CO - Wetland Residential Area
(Hose, Pipe and Tubing)
The Southeast Metro Stormwater Authority (SEMSWA), located in the south metro Denver, Colorado area, is responsible for several culverts located throughout many residential neighborhoods. After... (
View Full Article
)