About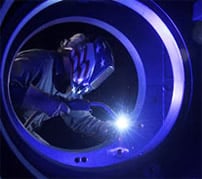 Indian Creek Fabricators Incorporated is an efficient, service oriented company. They are experts in commercial and industrial metal fabrication, and large scale machining equipped for processing a wide variety of requirements.
Indian Creek Fabricators can take any project from concept and design through fabrication and installation. They are proud to have an industry reputation for being on time and on budget while maintaining the highest quality finished product.
The company is committed to continue their tradition of improvement through education and advanced technical training to keep their staff on the cutting edge of the industry so you have the best talent available to make your project a success.
Indian Creek Fabricators' Capabilities Include:
Full Spectrum engineering / design support from concept, to production, to delivery
In house machining from small to very large parts
In house painting and finishing
Aluminum and steel welding capability
Quick turn around on prototypes and world class production lead times
Cellular manufacturing
Leading edge machinery
Demonstrated success with just in time, consignment, and proactive expediting
Indian Creek Fabricators' Certifications:
Indian Creek Fabricators Inc. maintains an ASME Section VIII, Division 1; "U" stamp Certification for the design and manufacture of pressure vessels. They also maintain a Certificate of Authorization "R" stamp from the National Board of Boiler & Pressure Vessel Inspectors for repair of pressure vessels. Both certificates are for shop and field work. Their weld staff meets the requirements of ASME Section IX.
Supplier Directory Categories