About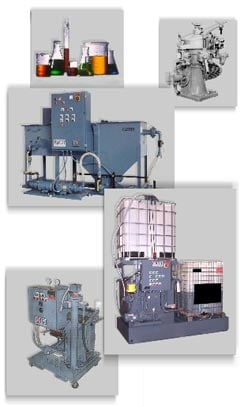 Your partner in maximizing fluid performance...
At IFS they believe that the best way to approach a problem is with an open mind. When they approach companies to discuss their fluid performance they like to look at all the factors including the type and quality of the fluids being used, waste disposal methods and all associated costs to any problem. They know there are often multiple potential solutions and their goal is to help you identify the best one based on what you want to accomplish. IFS can provide high-quality industrial fluids filtration and purification systems.
Equipment & Services
Industrial Fluid Systems builds fluid treatment systems designed to mix, recover, recycle and purify industrial fluids and oil. Their equipment lines include extensive standard options to give customers ultimate flexibility in their system configuration. They have a history of working with customers to build systems based on their needs. Systems can be purchased, rented or leased.
Industrial Fluids
With more than 20 years of experience working with manufacturers, IFS understands the importance of using the right fluids. Industrial Fluid Systems is a distributor of Quaker Chemical and Rock Valley Oil & Chemical metalworking fluids and cleaners because they believe they are among the highest quality fluids on the market. Their experienced sales engineers can help you find the right fluid for your application.
Supplier Directory Categories
Industrial Fluid Systems, Inc. is also listed in these categories: