About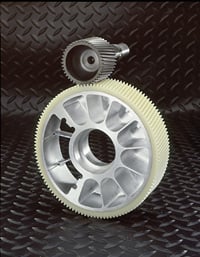 Intech Corporation is located in the northern corner of New Jersey, about 18 miles from Manhattan. Founded in 1983 by engineer Georg Bartosch, Intech specializes in the design and manufacturing of self-lubricating, lightweight, precision machined components.
The Intech Power-Core™ line of gears, rollers, and cam followers are made by thermally bonding a precision-engineered outer plastic layer to a metal core. Advantages of this unique plastic-on-metal structure include less noise, reduced vibration, greater dimensional stability, and no lubrication required.
More recently, Intech started exploring self-lubricating coatings which can be applied to aluminum and other lightweight materials. By using these self- lubricating coatings, Intech can produce self-lubricating parts for use in high-speed machines and in applications where high forces and temperatures are present.
Intech's aim is to produce machine components that run maintenance free at higher speeds and with less down time. There are additional benefits: reduced friction, noise, vibration, longer life, increased throughput, and generally smoother running machines.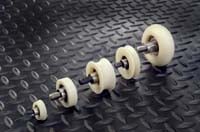 Intech serves both the OEM and maintenance markets. Customers include Applied Materials, Boeing, Fanuc Robotics, GE Healthcare, Barry-Wehmiller, Intuitive Surgical, J&J, John Deere, M&M Mars, Motion Industries, Nestle, P&G, Toyota, Sony and many others.
Intech's approach is simple. If they cannot prove on paper that the Intech Power-Core™ component works, they will not sell it. There are times when they find themselves at the cutting edge of technology working on an application with significant pay-back, no experience values on which they can base their engineering calculations. In such cases, Intech performs extensive testing in-house.
To assure customers that their gears, rollers, and cam followers will work, Intech, in cooperation with a leading university, developed a series of unique engineering calculations to accurately predict the useful life for any Power-Core component. Their engineers tell you if the gear will break first or wear out first in your application or if the roller will develop a permanent flat, and optimize the design for maximum life.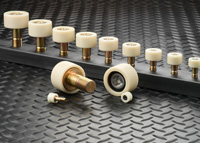 All finished parts are inspected for compliance with specifications before shipment. Intech's engineers use PRO-E for component design. To speed up communications with customers, e-files are exchanged.

Intech engineers are not afraid to ask the "what if" questions and propose novel and unusual solutions. So, for example:
To increase the load bearing capacity of a gear tooth by 12 to 18% and to reduce wear, they developed a plus/plus tooth modification.
To ensure smoother operation and closing for a sliding door, Intech produced a special roller that reduced noise from 70 to 56 dBa when opening or closing the door.
Intech holds several patents and a number of patent applications are pending. Using their expertise in non-lubricated gear, roller, and cam follower design, they often act as an extension of the customers' engineering department to help develop a new generation of machinery or eliminate a persistent gear or cam follower problem.
Typically the goals of such cooperation are to initially design, manufacture and deliver a limited number of components for testing. This is very cost effective as the development time is cut to a minimum and they can precision machine one or a half dozen units, fast.
Intech frequently signs non-disclosure agreements when they are working with a customer on new developments. Of course they also replace standard metal catalog gears or cam followers, with self-lubricating Intech Power-Core™ parts.
Supplier Directory Categories
Intech Corporation is listed in these categories: