About
The Waste Water Experts......
Specializing in consulting, equipment, and chemicals for the industrial wastewater markets. Helping industries reduce costs and improve water quality is Integrated Engineers' goal. Visit their case studies or the Floccin products that they manufacture.
Integrated Engineers, Inc. will evaluate your system and can find areas to improve performance; whether it is operating costs, effluent water quality, dewatering, or process modifications.

Integrated Engineers, Inc. was established by David Wensloff, P.E., in 1994 and based upon his vision, that environmental compliance should be effective, simple and affordable for industries. Integrated Engineers' approach to water and wastewater systems is unique in that they evaluate the entire wastewater process. The company performs a comprehensive evaluation of the client's system including engineering aspects, equipment and chemistry.
Integrated Engineers, Inc. offers the expertise of their own experienced professionals that manufacture wastewater equipment and unique chemicals, to provide state of the art, cost effective solutions that work!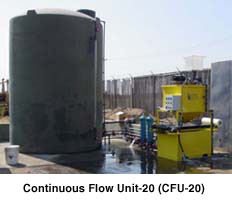 Flocculation Products
Integrated Engineers, Inc is the exclusive manufacturer of Floccin Agents™, a series of many products custom designed to remove most contaminants from wastewater.
Each blend provides a multitude of reactions that simultaneously coagulate, break emulsified oils in water, change the pH, encapsulate the metals, and flocculate to separate the solids from the waste stream.
Areas of Expertise
Treatment Process Optimization
Reduction in Effluent BOD/TSS/FOB
Environmental Regulatory Compliance
Engineering
Equipment
Controls and Control Systems
Chemicals and Optimization of their uses
Reduction in Treatment Costs
Design/Build (Turnkey) Systems
Custom System Designs
Supplier Directory Categories
Integrated Engineers, Inc. is listed in these categories: