About
Fast - Flexible - Reliable - East to Apply - Cost Effective - Proven in Multiple Applications
IntelLiDrives, Inc. supplies linear actuators, XY tables and rotary tables for the industry, government, science and research institutions around the world. Our precision rotary actuators, XY stages and linear actuators are used in the applications in medical devices, life sciences, semiconductor and electronic assembly manufacturing, data storage, laser processing, military/aerospace, photonics, automotive and test assembly, research and development and other industries requiring high precision and throughput motion control solutions.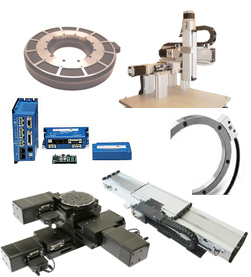 IntelLiDrives Products
Linear Actuators
Linear Actuators - Moving shaft
Lift stages
Linear-XY-Rotary Combination
Rotary Tables
Rotary Actuators
XY Tables
XYZ Systems
Amplifiers and Controllers
Encoders
for your motion automation tasks....
Supplier Directory Categories
Technical Articles


Direct Drive (DDR) Rotary Table Construction
(Positioning Stages, Slides and Guides)
Torque motors are also called "frameless" motors. They don't have housings, bearings, or feedback devices. In this sense the motor is a kit and meant to be part of the machine structure. Torque motors... (
View Full Article
)