About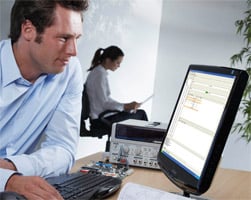 JTAG Technologies is the market leader and technology innovator of boundary-scan software and hardware products and services. JTAG's innovative boundary-scan (IEEE Standard 1149.1) products provide powerful electronic testing and in-circuit programming solutions that help companies manage design and fabrication processes with greater efficiency at the lowest possible cost. Boundry-scan is the superior technology to overcome test and programming challenges in today's and tomorrow's complex electronic systems.

With over 7,000 installations world-wide and the industry's strongest record of product innovation, JTAG Technologies is ideally positioned to help you realize the benefits of boundary-scan through every stage of your product's life cycle, from development to prototyping to manufacturing to field service.

JTAG Live, the easy-to-use and extremely economic board debug tool, comes from JTAG Technologies. They have been in the boundary-scan business since 1993, and have used that experience to create an all-new, low-cost tools suite accessible to every engineer and technician involved in PCB debug and test.
As hardware designers themselves, JTAG Technologies knows the pressures facing today's EE — design a new product that's highly functional and meets strict cost and reliability objectives. And, of course, be sure to get your prototypes up and running quickly.

Underneath the skin of JTAG Live is the power of boundary-scan, capitalizing on the built-in test resources in many of the chips on your board. But to use JTAG Live, you don't need to know the anything about boundary-scan, because they did that part for you.

One of the JTAG Live apps, Buzz, is available for download at www.jtaglive.com free of charge. Two other apps, Clip and Script, are available for a nominal price.







Supplier Directory Categories
JTAG Technologies Inc. is also listed in these categories: