About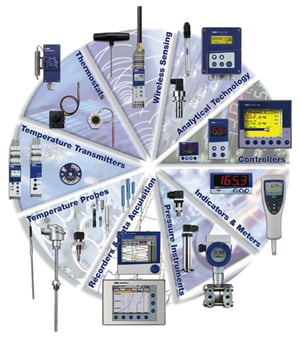 JUMO Process Control, Inc. . . . more than you expect
For over 50 years JUMO Process Control, Inc. has been designing and manufacturing high-quality measurement and control equipment for a broad range of industries. They strive to provide robust, technically-advanced solutions with friendly, knowledgeable service.
JUMO Process Control, Inc. is your complete source for temperature, humidity, pressure and analytical sensor and control solutions. They manufacture a wide spectrum of controllers, recorders, transmitters, indicators, thermostats, and SCADA software: everything you need to measure and control a wide range of applications in diverse markets, be it the food industry, renewable energy, HVAC, water quality, pharmaceuticals, and many more.
JUMO's products are all RoHS compliant, CE certified, and have the necessary country- and industry-specific approvals. Sales, service, and production facilities across the globe ensure that customers can speak with a JUMO representative familiar with their requirements.
JUMO's goal is to provide outstanding service to each and every customer through every step in solving their needs. They specialize in listening to customers and providing them with customized solutions. Their extensive array of standard products can be modified to suit your application requirements.
If you have a measurement and control need, let JUMO Process Control, Inc. be your partner. Rely on the experience of 50+ years of innovation to reach your goals.
Supplier Directory Categories
JUMO Process Control, Inc. is listed in these categories: