About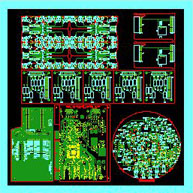 K & F Electronics, a quality domestic (USA) PCB manufacturer located
in Michigan since 1972. K & F Electronics is ISO 9001:2008 and ITAR
certified and also has their Cage Code. K & F Electronics manufacture
rigid, flex and rigid-flex boards RoHS and heavy copper. Various FR4
materials, ceramic (Rogers), aluminum substrate and more. Small to
large production runs. You can view details on our website. You can
count on K and F Electronics to provide quality PCBs delivered on time
at very competitive prices. We have a special offer called the proto
panel deal 24 hr delivery with no tooling costs up to 8 part numbers
per panel. For more information on the proto panel deal click here.
K & F Electronics is capable of running 1 board or tens of thousands, a simple single sided board or an intricate 24-layer board. We manufacture boards using high temperature and special application materials. Our engineering staff is always available to help with all your questions.
The following capabilities are representative of K & F Electronics, Inc's overall manufacturing abilities and design rule guidelines. To view our ISO certificate please click here. For more information about our latest equipment purchases, customer acquisitions, and awards click here.
Though technology has changed, the values of this family owned business have not. Customer satisfaction remains our top priority. We promise you a high quality product with on time delivery. We are dedicated to our customers and will support you with our experienced sales, customer service and engineering staff.
For over 42 years, K & F has remained a reliable source for quality printed circuit boards, and we look forward to working with you.
K & F Electronics provides manufacturing of Single-Sided, Double-Sided, Multilayer boards. They are an industry leader in prototype & scheduled production. We also can provide PCB design, through hole and surface mount (SMT) assembly services if needed. K & F Electronics provides quality today for tomorrow's technology.
Supplier Directory Categories