About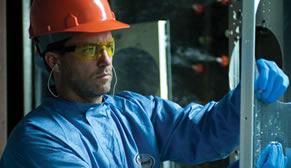 No matter the business, people are your most important asset. At Kimberly-Clark Professional, we help safeguard people who help move the world forward – from people working to cure disease to people working to put food on the table. Through full-service solutions that combine innovative products with industry expertise, we create environments that are healthier, safer and more productive.
Kimberly-Clark's essential brands touch nearly 1 of 4 people every day.
Be Healthy. Be Safe. Be More Productive.
We help break the transmission of germs in the workplace with innovative products and hygiene-based wellness programs, so your team performs at their best. We provide an extensive range of safety equipment and educational programs, so both your hardware and your employees have the highest level of protection. With a LEAN-focused evaluation process, we arm your employees with the right products and advise them on best practices to work more intuitively and efficiently. They're more confident, and your workplace is more productive.
About Kimberly-Clark Corporation
Leading the world in essentials for a better life: That's what Kimberly-Clark is all about. We place consumers at the center of everything we do. Billions worldwide choose our products to make a positive difference in their lives. That's a big responsibility, and one we take seriously.
58,000 employees working at manufacturing facilities in 37 countries
Leading brands sold in more than 175 countries
More than 140 years in business
Nearly one-quarter of the world's population purchases our products every day
$21.1 billion in sales in 2012
Ranked first in the personal care category in Dow Jones' Sustainability World Index five years in a row (2005-2009)
Contributed $33 million in cash and products to charitable causes in 2012
Supplier Directory Categories
Kimberly-Clark Professional is also listed in these categories: