About
The leading manufacturer of slewing drives worldwide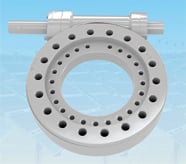 Kinematics Manufacturing is the preeminent design, manufacturing and service company of slewing solutions worldwide. Our slewing rings, bearings and drives are the critical connection between the rotating and non-rotating elements that provide structural support, precision powered rotation of the payload and ultimate control of equipment.
It is Kinematics' mission to provide the ultimate slewing solutions for our customers. Kinematics offers these perfect slewing solutions by using direct feedback from our customer relationships, engineering the best product, researching and developing in our laboratory and manufacturing all components in-house while delivering outstanding worldwide service and customer support.
As a global leader in power transmission knowledge and innovation, we leverage our vast experience—367,000 drives running worldwide. No other company matches our experience, wide range of slewing drive solutions, understanding of applications and field service.
With our patented gear solutions, our drives deliver the highest output torque and power in the smallest possible envelope. Kinematics has a passion for clean power and renewable energy, but our technology can be used across industries, from wind and solar to mobile, satellite and industrial applications.
Kinematics offers standard product and custom solutions. Our industry-leading slewing specialists and application engineers are available 24/7 to assist with customer design, configuration, specification and industry regulatory requirements. Working as a together as a team from the start of the design process, and coupling our drive expertise with your specific product proficiency, we produce the ultimate slewing solution to make your company more profitable.
Marketplaces
Our primary marketplaces are solar trackers, wind turbines, aerial work platforms, satellite pedestals, industrial machinery and material handling equipment.
Other applications include packaging equipment, truck cranes, antenna systems, mining equipment, machine tools, construction cranes, forestry and aerospace. Any equipment requiring a rotating structural support element with controlled rotation is an excellent choice for using a Kinematics slewing drive.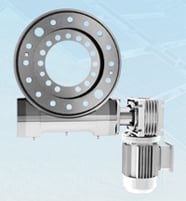 Global
Currently employing more than 720 dedicated, multinational staff members, Kinematics is the world's largest slewing drive manufacturer. Kinematics is headquartered in Phoenix, Arizona, USA; owns and operates its own 14,500 m2 manufacturing plant in Jiangsu, China; and has a Kinematics sales company in Neuchatel, Switzerland. The US and Swiss companies are fully equipped with sales, service and product distribution warehouse. By strategically locating in North America, Europe and Asia we are aptly capable of handling international accounts in all aspects of their business.
History
Kinematics Manufacturing Inc. began in 1996 as a small operation outside of Los Angeles. Founder Brent Morgan designed specialty gearboxes, then machined, assembled and shipped them one at a time from a small, 50 m2 rented space. Mr. Morgan listened closely to his customers' performance problems and found innovative gearbox solutions. His reliable, patented, low-cost designs and highly responsive approach to customer service are the foundation of Kinematics' long term growth and success.
Kinematics' highly trained employees do all our machining, gear cutting, spline rolling, heat treating, and assembly in-house.By purchasing only raw material commodities and doing our own manufacturing, we have ultimate control: making our quality, delivery time, and product the best in the world. We care for our customers better than anyone else, so we keep our manufacturing in house and refuse to outsource. Because of our belief in measured, sustainable growth, we maintain our solid foundation by reinvesting in our company.
QC Systems
The Kinematics team is committed to continuous improvement and the strictest quality control standards. It's these characteristics that enable us to keep prices low and quality high. Our certifications include ISO 140001 environmental management, ISO 9001 quality management system, CE, OHSAS 18001 occupational health and safety, REACH and multiple TUV Rheinland certifications among others.
Products

SE - Fully Enclosed Hourglass Slewing Drive
-
IP55, dust protected, water jet with no harmful effects. Our base model sizes deliver performance ranges from 6kNm to 220kNm of holding torque. Kinematics slewing drives are designed and tested to guarantee a 30-year field life.

S - Open Housing Hourglass Slewing Drive
-
Open housing drive. The drives are available with one or two worm shafts for increased torque. Typical slewing drive applications for this open housing slewing drive include man-lifts, utility equipment, turntable applications, digger derricks, and steering applications.

SDE - Dual Axis Positioner
-
3D positioning in a single drive. The most common slewing drive application for the dual axis slewing drives are dual axis solar trackers, such as heliostats, concentrated photovoltaics (CPV), and satellite or radar dishes.

ACE - AC Electric Motor Hourglass Slewing Drive
-
This product offers an AC motor with a right angle worm reducer and main ring reduction. The mounting can be done horizontally or vertically. Kinematics slew drives are powered with patented hourglass worm technology to give maximum survivability load-holding as well as increased efficiency and accuracy.

KE - Maintenance Free
-
Our drives offer an IP66 rated enclosure that demonstrates complete protection from environmental particles such as dust, dirt, sand, and even water. Learn more about our testing equipment and procedures that allow us to provide a 30-year performance guarantee.

ZE - Zero Backlash Hourglass Slewing Drive
-
When little to no backlash is needed for an application, the Kinematics ZE slewing drive is ideal. The drive offers as low as 0.01° of backlash. This is ideal for solar trackers, specifically Concentrated Photovoltaics (CPV), solar troughs, and heliostats that need to focus on a single point along with wind turbines and satellite and radar dishes.

AE - Adjustable Backlash Hourglass Slewing Drive
-
Like the ZE slewing drive, the AE slewing drive is a low backlash slewing drive. It is unique in that the backlash is adjustable throughout the diameter of the drive. Careful engineering goes into each and every application using the AE slewing drive due to its complex design.

Double Enveloping Worm Gearset
-
The Double Enveloping Worm Gear is custom designed to your specifications. Please let us know your requirements by filling out and submitting this form and we will get in touch with you.

Right Angle Rotator
-
Right angle rotators are ideal for applications that require high torque in a compact package, but cannot use a slewing drive. These applications include man-lifts, truck cranes, dump trucks, utility equipment, and marine applications. Many output flanges and splines to choose from.

VE Vertically-Mounted Slewing Drive
-
The VE is a fully-enclosed, vertical drive that does not require other components for mounting. It is most commonly used in the center of single-axis solar trackers to hold the solar array sturdy in a high wind storm without breaking.

LE Locking Absolute Positioner
-
The LE slewing drive locks into position and does not allow movement once in place, making it extremely accurate under heavy loads. This drive maintains efficiency through a variety of applications and produces high ROI. Get the hourglass worm technology for better results.

W Right-Angle Rotator
-
Kinematics right-angle rotators are ideal for applications that require high torque in a compact package, but cannot use a slewing drive. Uses of these rotators include mobile applications like certain man-lifts, truck cranes, dump trucks, utility equipment, and marine applications.

DE Double-Enveloping Worm Gear Sets
-
Kinematics' DE worm gears are custom-made per application and customer. Applications of these gears range from solar to mobile applications, including mining equipment, digger derricks, solar trackers, wind turbines, medical bed equipment, and robotic arm positioners.

Slewing Rings Made to Order
-
Kinematics slewing rings are a cost-effective, performance-enhancement option for rotary devices carrying heavy loads. Slewing rings have a compact design and can be manufactured without teeth, with internal or external teeth, with balls, and/or with rollers.
Supplier Directory Categories