About
Kittyhawk Products employs the top technicians and specialists to provide your company with the best products that require the highest quality of complex casting. The quality of our products are enhanced by our commitment to providing you with the best possible services in casting densification and more. We believe personalized service is fundamental in the fields of aerospace, electronic, commercial, medical, and cladding products alike. We provide fast turnaround of parts and we work hard to always match your exact specifications.



What are the benefits of Hot Isostatic Processing?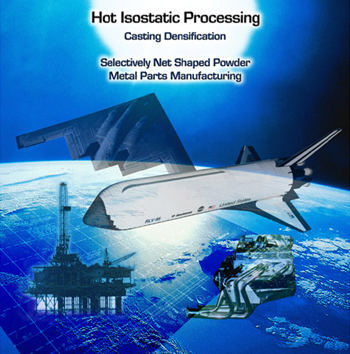 Hot Isostatic Processing (HIP) is the application of high pressure and temperatures on your product through the medium of a pressurizing gas to completely remove internal porosity and voids. This improves your material's mechanical and workability asset allowing you to product higher quality material that will last longer.

The process was first researched at the Battelle Memorial Labratories in Columbus, Ohio over sixty years ago. Pressure is applied uniformly to the hot isostatic pressing, so there are no inconsistencies in the casting densification process.

The hot isostatic process is an excellent option for the improvement of a wide variety of materials including: titanium, steel, aluminum and superalloys. As this process increases the quality of the product it reduces the total production costs.

Please contact us with questions, comments, or to request a quote. You can reach us at 1-800-Kittyhawk or email our sales manager at sales@kittyhawkinc.com.

HIPing is the answer to solving your precision and complex casting and manufacturing needs. HIP is a production process of unique benefit in the precision casting, powder metal, metal bonding and ceramic industries.

Quality Policy

Kittyhawk Products will continually improve service to better satisfy the needs of our customers through fast turn-around of parts run to exact specifications. We are ISO 9001:2008 AS 9100 REV.C registered.
Supplier Directory Categories