Profile Home
About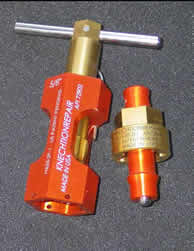 WHY YOU NEED THIS TOOL
At KnechtionRepair ("connection repair") we design specialty tools that repair both internal and external threads of industrial standard two ferrule type compression tube fittings, AN/MS aviation fittings and JIC hydraulic fittings. With their uniquely designed holder (for alignment) and hollow bore tap, damaged threads can be quickly and easily repaired right at the connection location saving time, money and hours of frustration. And, in addition our new AN/MS and JIC tools come with a lapping feature to prevent and/or correct those nuisance fitting leaks. The lapping feature, like the tap and die, work in conjunction to keep everything in alignment for an effective sealing surface.
Designed to make thread repairs to both male and female ends of all major brands of swaged type, two ferrule compression fittings, AN/MS (aviation), and JIC (hydraulic) fittings.
Due to their small design they can be used directly at the damaged fitting location.
In most cases the repair can be accomplished w/out removing the tube from the system.
The uniquely designed alignment holder makes repairs so easy they can be completed nearly blind folded.
So simple and effective they can be used w/out any training.
Saves maintenance technician time and saves the company money by avoiding additional down time.
Each size is color coded for easy tool box identification.
---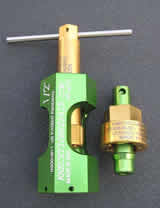 QUALITY MATERIAL
KnechtionRepair tools are 100% manufactured in the USA. Both the taps and dies are precision manufactured from heat-treated tool steel. Further, the tool steel taps and dies are TIN (Titanium Nitride) coated for durability and protection.
The holders and pilots are manufactured from 7075 aluminum and fully CNC machined. After machining, the finished holders and pilots are anodized in different colors for quick and easy identification. The tools are then packaged in a clear PVC plastic container for clean, efficient toolbox storage.
Our AN/MS and JIC tools include a lapping feature made of 7075 aluminum with a tungsten carbide abrasive material.
---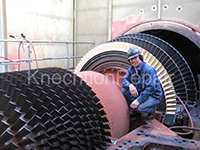 MEET THE INVENTOR
Ken Knecht, inventor of the KnechtionRepair tools, has been in the gas and steam turbine power plant maintenance industry since 1975. Years of experience working in tight/confined spaces and encountering damaged threads on reusable swaged industrial two ferrule type compression fittings led him to design these remarkable tools.