About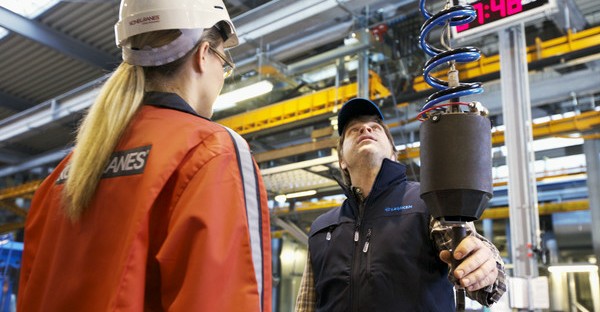 Konecranes is the overhead crane industry leader, with a complete range of lifting solutions and the largest service team in the world. From process cranes to chain hoists, safety inspections to full crane maintenance, their crane service team and engineers are committed to maximizing the life of your lifting equipment.
Delivering maximum lifecycle value for your lifting equipment.
Konecranes is a world leading manufacturer of overhead cranes and lifting solutions for industries ranging from ports and intermodal to light manufacturing and energy. Their equipment and crane parts are engineered to the highest safety and performance standards.
Equipment


INDUSTRIAL CRANES


Read about Konecranes industrial cranes featuring the compact CXT hoist technology.

PORT CRANES


Read about Konecranes high performance cranes for ports, intermodal terminals, and the worldwide shipping industry.

PROCESS CRANES


Process cranes for the most demanding environments

.
HOISTS


State-of-the-art light crane systems ranging from hand chain blocks to electric chain hoists.

LIFT TRUCKS & REACH STACKERS


The markets widest range of lift trucks and reach stackers.

HAZARDOUS ENVIRONMENTS


Explosion proof cranes ranging from low capacity jib cranes to severe duty process cranes

.
SPARE PARTS


Your one source for crane parts of all models

SERVICING THE GLOBE


5,500 Technicians


600+ Locations
Almost 50 Countries
1.7 Million Annual Service Calls

Regardless of your lifting needs, Konecranes is committed to providing you with lifting equipment and services that increase the value and effectiveness of your business.
Konecranes is committed to always offering the best customer service in the industry. To them, quality of service is based on safety, reliability, and high-performing technology with which they improve customers' efficiency and productivity. Even in developed outsourcing markets, an estimated two thirds of all service of lifting equipment is still carried out in-house. Outsourcing this service offers benefits such as improved cost efficiency, safety, and increased uptime, and has created a genuine growth market that fuels Konecranes organic growth. Konecranes strategy is optimized for tapping into the service industry's global growth potential.

Konecranes' extensive machine tool service supply includes management, training, service, parts supply and special tools. We provide a service matching your requirements, no matter how complex they might be.
Supplier Directory Categories
Konecranes Inc. is also listed in these categories:
Technical Articles


Overhead Crane Cabs
(Material Handling Equipment)
With efficiency as a watchword, a growing number of businesses are providing their crane operators with radio controls to get them out of overhead crane cabs and working on the ground on multiple... (
View Full Article
)