About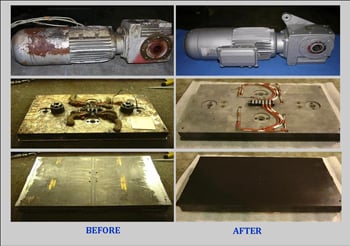 Since 1990, Kwalyti Tooling has been helping industry leading companies to overcome even the toughest packaging challenges. Their expertise in finding solutions to packaging problems, and their commitment to success, has earned them a level of trust that can only come from years of dedication to complete customer satisfaction.

Specializing in Form Fill Seal packaging machinery and experienced in both flexible and rigid film types, Kwalyti has built a reputation of quick turnaround, technical expertise and unquestionable service levels. And of course, Kwalyti's goal is to anticipate your needs by applying their unique combination of experience and knowledge to make every project a complete success!

Regardless of equipment model, Tiromat ®, Multivac ®, Rapidpak®, Rollstock ®, Dixie® , Mahaffey ® and others, Kwalyti offers full services in design, manufacture, repair and installation for every facet of food packaging, medical packaging and consumer product packaging.

Services Include:
PACKAGING MACHINES

Pre-Owned machines in stock and ready for rebuild to your specifications
R.S.T. (receive, set-up & test) services available from any OEM or vendor
Technical support for Food, Medical and Consumer Goods packaging
Partnering services provided with film vendors for precision final packaging

REBUILD SERVICES

Full or Partial Rebuilds on existing packaging equipment
Installation and testing of New Tooling and Cutting Systems with your rebuild
Existing Tooling and Cutting System reconditioning and installation
Electrical upgrades including Allen Bradley System retrofits

CUSTOM TOOLING/CUTTING ASSEMBLIES

Design consultation offered on every project
Custom Tooling manufactured for any application
Custom Tooling manufactured for any application
Atmospheric, Vacuum or Gas Flush (MAP) packaging applications
Installation services available

COMPONENT AND TOOLING REPAIRS

Repair and Reconditioning services guaranteed to OEM specification
Post Production assembly and testing available
Plating, clear coat and hard coat anodizing on request
Non-stick Dupont coating applied at their facility
3-day standard turnaround – (expedited services also available)

REPLACEMENT PARTS

Components for Electrical, Pneumatic, Transport, Bearings, Chain, Cutting, and Heating in stock
Custom gaskets pressed in virtually any shape, pattern or durometer right at Kwalyti facility
Over 2500 distinct parts in inventory, full assemblies and individual components
Same day shipping on most stock parts
Technical Parts Team available to assist in part selection

ANCILLARY SYSTEMS

Labeling – Trim Removal – Chain Lubricating Systems – Printing/Code Dating Systems – Transport Systems
On-site and Off-site Installation services available
Complete line of Cutting systems - Steel Rule, Matched Metal, Guillotine and Fly Knife

ADDITIONAL SERVICES

Field Services offered for equipment troubleshooting, installation and repair
Custom Parts manufacturing on virtually any machined part
Reverse engineering available

With over 20 years in business and over 200 years of combined packaging experience, Kwalyti strives to solve even the toughest packaging dilemmas. They do this by listening, then anticipating what will happen at every turn and planning for it. Consider them for your next project and make your company their next success story.

Mission
To provide the Thermoform-Fill-Seal packaging industry with top quality parts, service and custom tooling for virtually any Form Fill Seal application.
Supplier Directory Categories
Kwalyti Tooling & Machinery Rebuilding, Inc. is also listed in these categories: