About
Cable Assemblies, Connectors, Adapters, Amplifiers, Antennas, and Wireless Connectivity Products from L-com Global Connectivity
L-com is a designer, manufacturer, and direct seller of a very broad range of wired and wireless connectivity equipment. Their product offering has solutions for audio/video, OEM, military/aerospace, IT, installation/integration, and wireless RF industiries. Any of their thousands of in-stock items can ship the same day as ordered, and they can custom manufacture turnkey solutions in their U.S.A. and China manufacturing facilities. They have been the "one-stop source" for wired and wireless connectivity products for over 30 years.

In L-com's many years of experience in designing and building custom connectivity products, they have built just about every type of commercial copper or fiber bulk cable, cable assembly, connector, and adapter, as well as wireless system components like antennas, amplifiers, splitters, and filters. Today, they carry all of the commercial connectivity types including:

3.5mm/0.8" stereo, 1/4" TS audio, and XLR
S-Video, 75-Ohm Coaxial/RGB, VGA, DVI, HDMI®, and DisplayPort
IEEE-1394 Firewire and USB 2.0 and 3.0
D-Subminiature products from 9 conductors all the way to 78 conductors
Category 3, 5, 5e, 6, and 6a twisted-pair
RG-style and low loss style coaxial
Multimode and single mode fiber optics
Wireless bands from 400 MHz to 5.8 GHz
But beyond the basics, they also carry a range of hard-to-find legacy products for IEEE-488 GPIB, SCSI, and POTS; indoor/outdoor, waterproof, and industrial-rated products; 19" racks, rack enclosures, and panels; weatherproof and NEMA rated enclosures; lightning and surge protection products; power-over-Ethernet injectors/midspans; and name-brand active equipment like switches, access points, security/surveillance cameras, and lots more. Each month they add on average 18 new product lines and dozens of new SKUs.
L-com also manufactures custom products in large or small volumes, offering fast turnaround if needed. Their custom design program is simple and efficient, making the entire design and manufacturing process painless and within budget.
L-com's Custom Cable Product Configurator
L-com's online product configuration tool allows you to quickly and easily create custom cable assemblies without needing to pick up the phone.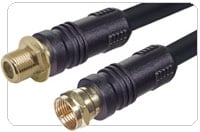 Online customizable products include:
Audio/Video cable assemblies
Fiber Optic cable assemblies
Low Loss Coaxial cable assemblies
Telecom/Modular (Ethernet or UTP/STP) cable assemblies
Did you know that L-com also has experience designing other custom products such as:
Connectors
Adapters
Antennas
Rack Panels
RF Amplifiers
and Weatherproof Enclosures
Contact your dedicated account representative today to see how they can satisfy your specific application requirements.
Why People Choose L-com Global Connectivity
Thousands of High Quality and Hard-to-Find Niche Products at an Unbeatable Value
Secure, Easy, and Convenient Shopping On Their Website and Over the Phone
Your Personal Connectivity Expert with Tons of Free Technical Resources
Supplier Directory Categories
L-com, Inc. is also listed in these categories:
Technical Articles


Building an Ethernet Network (.pdf)
(Wire and Cable)
This white paper will cover a brief history of computer networking as well as the basics of how to set up an Ethernet Network. Other items covered include both wired and wireless network... (
View Full Article
)