About

Precision Spray Nozzles & Engineered Solutions
Nozzles and spray systems are used in virtually every stage of manufacturing. Their performance can have a major impact on product quality and production costs. For over 130 years, Lechler has pioneered developments in spray technology for the manufacturing industries.
We continue to design, develop, and produce products of outstanding reliability and performance, all accompanied by expert advice.
Servicing Industries Worldwide
Today, Lechler offers a comprehensive range of nozzles and spray systems available to industries around the globe. We provide spray solutions for food and beverage, chemical, steel mills, power plants and these are only a few. Lechler is a truly an international company.
Headquarter Location
¦ Metzingen, Germany
Manufacturing Locations
¦ St. Charles, IL
¦ Sheffield, Great Britain
¦ Thane, India
¦ Kecskemét, Hungary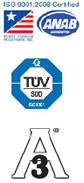 Commitment to Quality - First Time, Every Time
The Lechler policy of continuous improvement and meticulous inspection along with our ISO 9001 certification are evidence of our commitment to quality. From design to manufacturing, Lechler products are subject to continuous quality management .
Supplier Directory Categories
Lechler, Inc. is also listed in these categories:
Technical Articles