About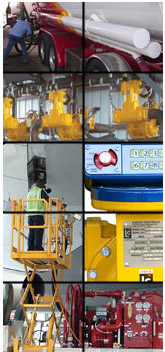 "When accuracy counts"
Our extensive offering of precision flow meters, electronic registers, and pumps combine to provide the safe, accurate, and efficient transfer of liquids and gases
From its start in 1956, Liquid Controls, a unit of IDEX Corporation (NYSE:IEX), has been dedicated to providing high quality flow meters and accessories for accurate liquid measurement in both custody transfer and process control applications. Continuously branching out from the original military aircraft fueling requirement which gave us our start, we now serve a wide variety of industries. Our manufacturing team is made of the most highly skilled craftspeople in the region, all working together each day to assure that personal care goes into each task that makes up an LC product. We rely on a strong combination of in-house engineered designs and a network of strategically located factory authorized full service distributors to ensure that our customers around the world are supported with technology tailored to each industry's particular requirements. Planned obsolescence has no part in our philosophy, and we at Liquid Controls are proud that our products, correctly installed and maintained, will provide years of dependable service.
Supplier Directory Categories
Liquid Controls Group; a Unit of IDEX Corporation is also listed in these categories: