About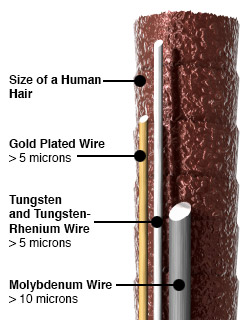 Luma Metall AB has 80 years of experience in producing fine wire products in tungsten and molybdenum. We also have over 50 years experience in gold plating tungsten and molybdenum wires.
Luma Metall AB have added fine and super fine wires in other materials such as copper, beryllium copper, brass, stainless steel, silver and monel for plating purposes to our production.
Luma Metall specializes in manufacturing fine wire products
80 years of experience in fine wire drawing and gold plating of ultra fine wire.
We offer very thin wires (down to 4 micron = 0.00020 inch), but still with a high strength.
Our thin wires are also available as gold plated.
We develop our own thin wire manufacturing processes and also design our own equipment to secure that we are able to meet our customers' demands for thin wire products.
The unique characteristics of our ultra fine wire products make them ideal for a wide range of applications in fields like for example medical, antenna systems, testing of electronics, technical research and printing
Luma Metall provides services like material analysis and plating on wire materials
Custom plating service for several types of substrate metal wire.
A well equipped laboratory for material analysis.
Through our technical service team we help our customers to solve problems.
We also participate in customer developments of suitable fine wires.
Supplier Directory Categories
Luma-Metall AB is also listed in these categories: